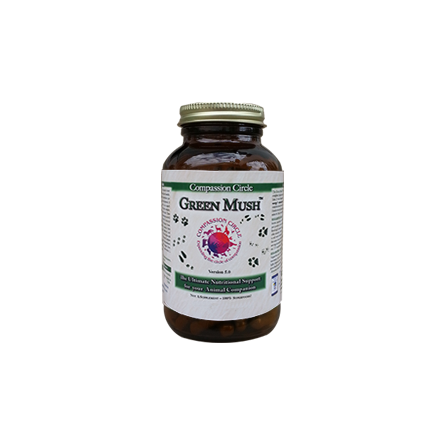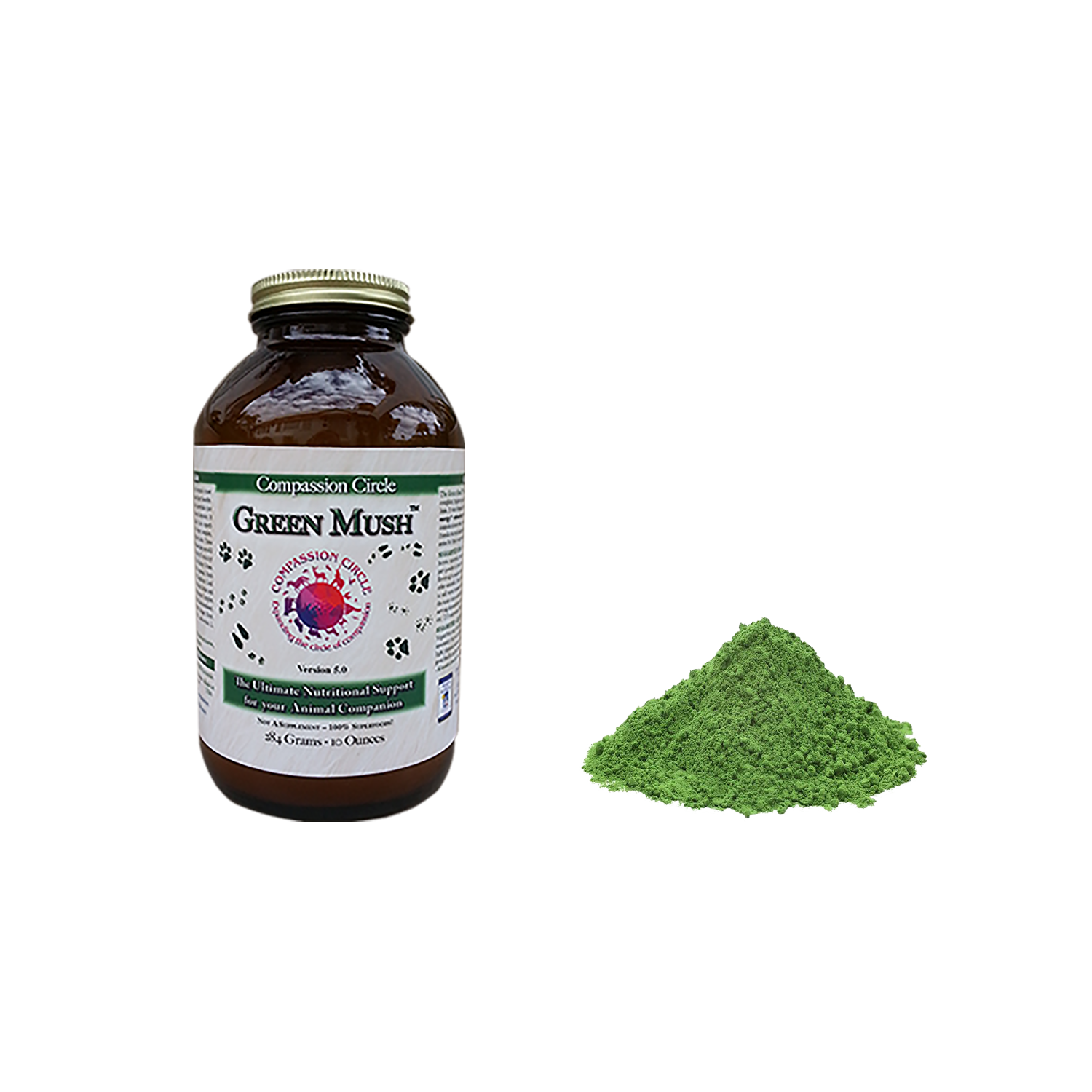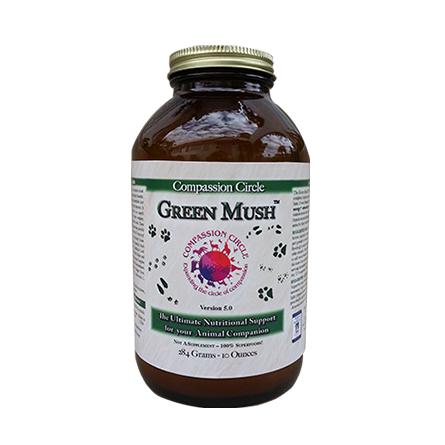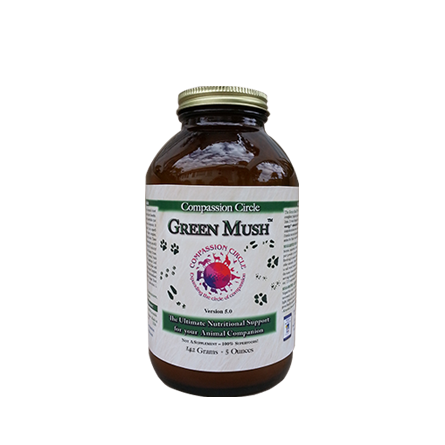 Vegepet
GreenMush™ - The Ultimate Superfood
Regular price
Sale price
$8.85
---
Green Mush™ is t
he Most Nutrient-dense Superfood Available!
Green Mush™ is a superfood for animals and humans. It is organic, whole food, green, and 100% plant-based.
Green Mush™ provides nutritional support for
Increased Lifespan
Accelerated Healing
Greater Energy
Healthy Immune System
100% Vegan
Fully Absorbable/No Toxicity
Green Mush™ contains spirulina, chlorella, kelp, and digestive enzymes.
Spirulina and chlorella, and other ingredients, are very supportive of liver and kidney functioning and aid detoxification. Green Mush™ provides additional bioavailable vitamin, minerals, and phytonutrients to the diet from whole-food, organic or beyond, sources. It is akin to a "multi-vitamin" for animals but is far superior in that it is not cheated or synthetic in any way but entirely plant-based. 
INGREDIENT HIGHLIGHTS
Algae
Spirulina Manna™
Broken Cell Wall Chlorella Manna™
Wildcrafted Aquatic Vegetables

Icelandic Kelp
Nova Scotia Dulse
Land Vegetables
Nettle Leaf
Carob Pod
Whole Leaf Wheat Grass
Shavegrass (Horsetail)
Burdock Root
Alfalfa Leaf Juice
Ginger Root
Nopal Cactus
Enzymes (optimum absorption, cleansing plus)
Protease
Alpha Galactosidase
Amylase 
Cellulase
Lipase
Bromelain
Papain
Green Mush™ is a green powder that can be mixed into wet food or added to a small amount of water and then added to dry food (see Suggested Use below).
Unlike traditional multi-vitamin/mineral products, it is truly effective, totally non-toxic and exceptionally absorbable (not excreted as expensive yellow urine or settled out in the tissues as toxic deposits). It also contains thousands of phytonutrients and a plethora of other complex, synergistically bound organic nutrients.  This product is "manufactured" by Mother Nature herself; not a chemist in an isolation factory. There are absolutely no synthetics or isolated nutrients whatsoever in Green Mush™.
Green Mush™ is particularly helpful for allergies and people have reported that their animals' hind leg paralysis or mobility issues have greatly improved after adding Green Mush™ to the diet.
100% Whole Food Nutrients
Vitamins
Minerals
Protein
Enzymes
Phytochemicals
Chlorophyll
Antioxidants
These nutrients are exactly as they occur naturally in whole plant foods, because they are still in whole plant foods!  They are fully recognizable and absorbable with NO toxicity!
FULL LIST OF INGREDIENTS
Spirulina Manna™, Broken Cell Wall Chlorella Manna™, Nettle Leaf, Carob Pod, Whole Leaf Wheatgrass, Icelandic Kelp, Horsetail (Shavegrass), Burdock Root, Alfalfa Leaf, Nova Scotia Dulse Leaf, Plant Source Digestive Enzyme Blend (Protease, Alpha-galactosidase, Amylase, Cellulase, Lipase, Bromelain, Papain), Ginger Root, Whole Leaf Nopal Cactus
100% Pesticide free/Wildcrafted or TruGanic™
SUGGESTED USE
Great for dogs, cats, rabbits, rats, guinea pigs, hamsters, mice, ferrets, squirrels, other mammals, and human animals, too!
Daily serving depends upon the size of the animal.
Rats - 1 teaspoon
Cats and Rabbits - 2-5 teaspoons
Dog (~50 lb) - 1 tablespoon
Rats, Guinea Pigs, Hamsters, Mice, Squirrels
Small animals, like rats, can eat it this way as a meal.
Other Animals
For other animals, Green Mush™ can be mixed into their normal foods.
Green Mush™ is a dry powder and best way to serve it is to mix it with water. 
Mix approximately 1 part powder to 1 or 2 parts purified water, fresh juice, or fruit such as a banana (for flavoring) to make a mush.
Cats
Because Green Mush™ is alkalizing, cats on a plant-based diet probably need some type of urine acidifier if they consume Green Mush™ on a regular basis....that could be VegeYeast, Vegecat phi™, cranberry powder, or Vitamin C (ascorbic acid). 
---
TESTIMONIALS
My senior rat lost the use of  his back legs.  I started adding Green Mush to his cereals, and after just two weeks, he was using those legs again! 

Carol Lawton

---

Benji, my shelti dog of eighteen years had hip dysplasia so bad that he was falling down when walking, and could not get up.  I thought I had to put him to sleep, but my daughter got him on Green Mush and the difference is unbelievable!  He looks younger and can walk without falling.  I feel as if Ben has been given a new lease on life.

Millie Marcoux
---
---