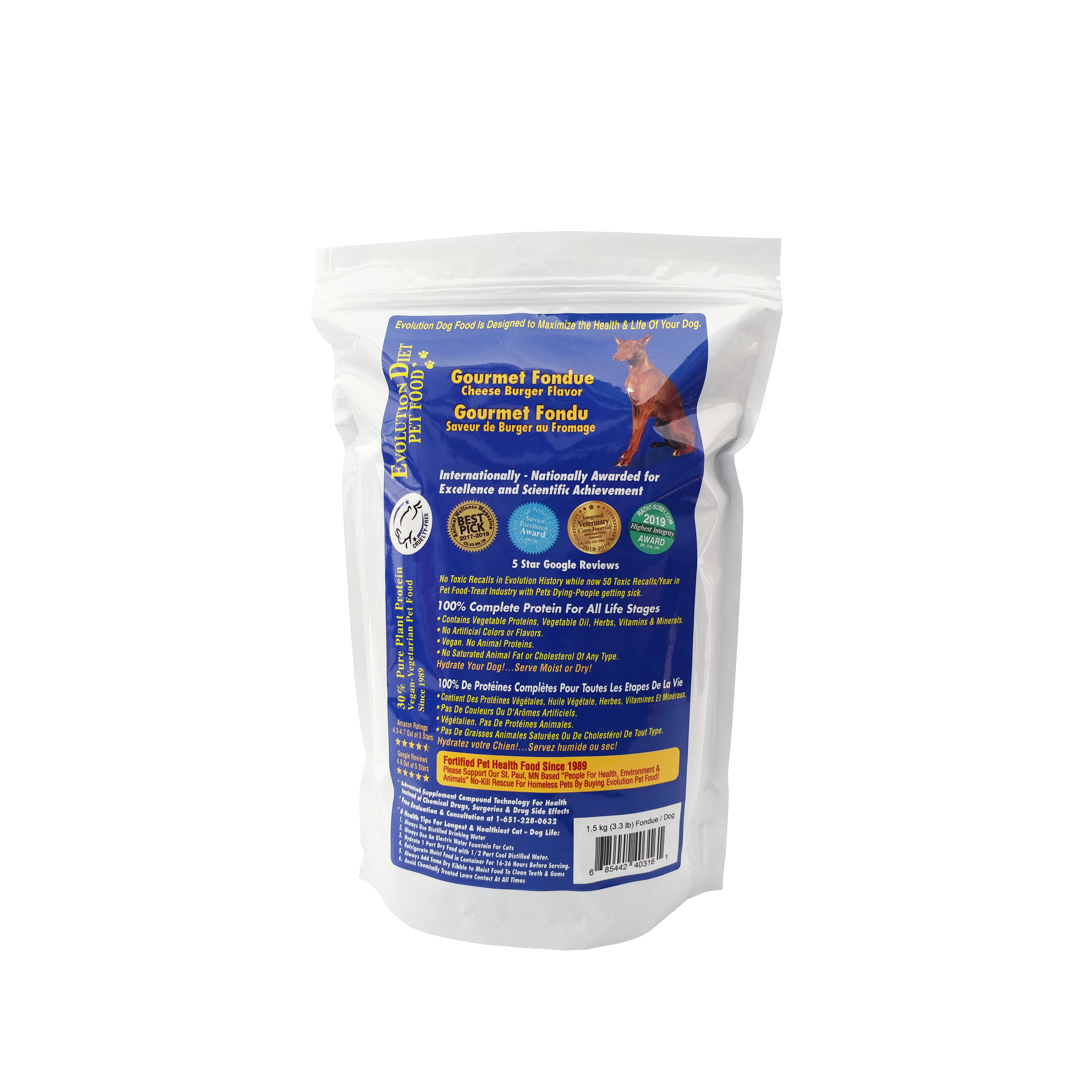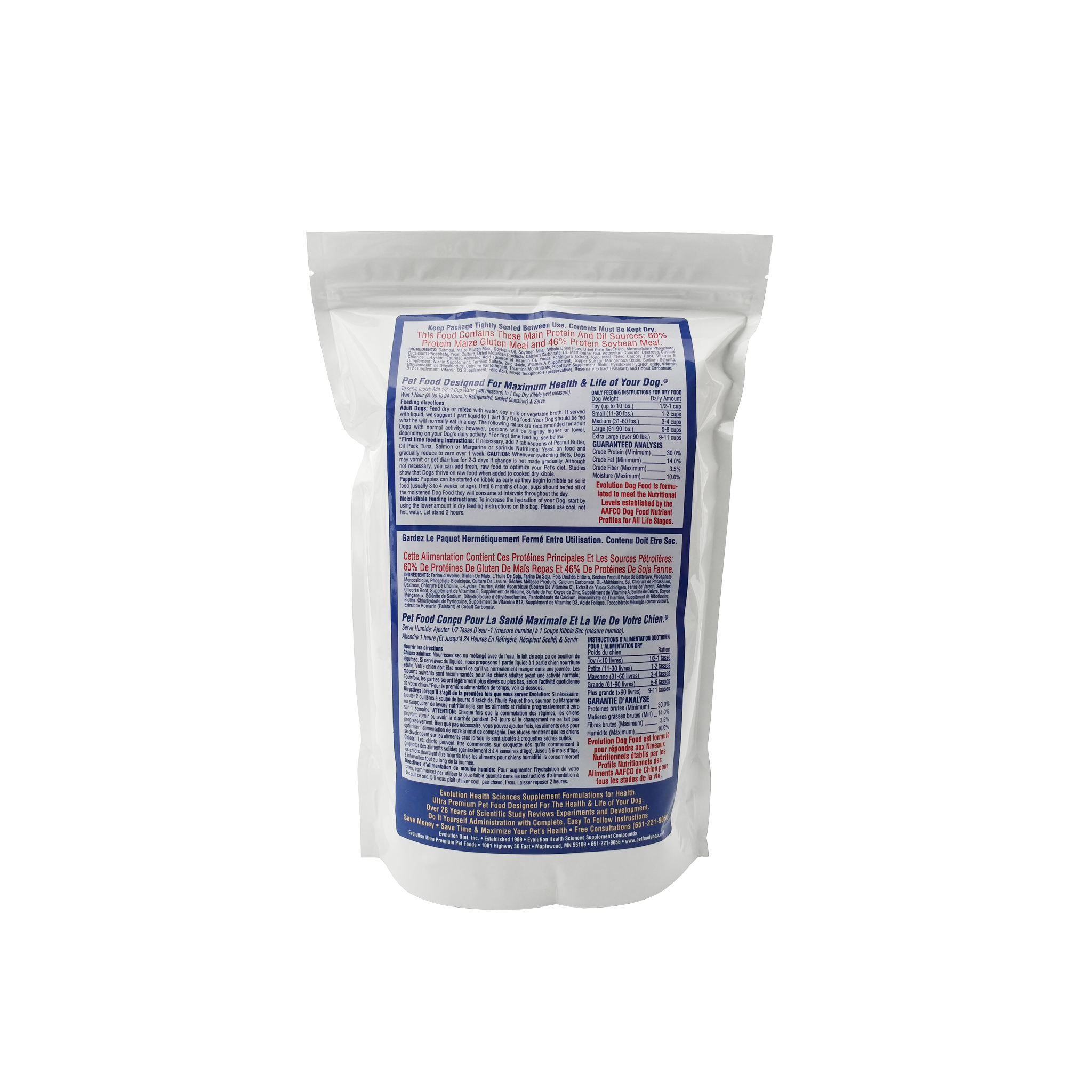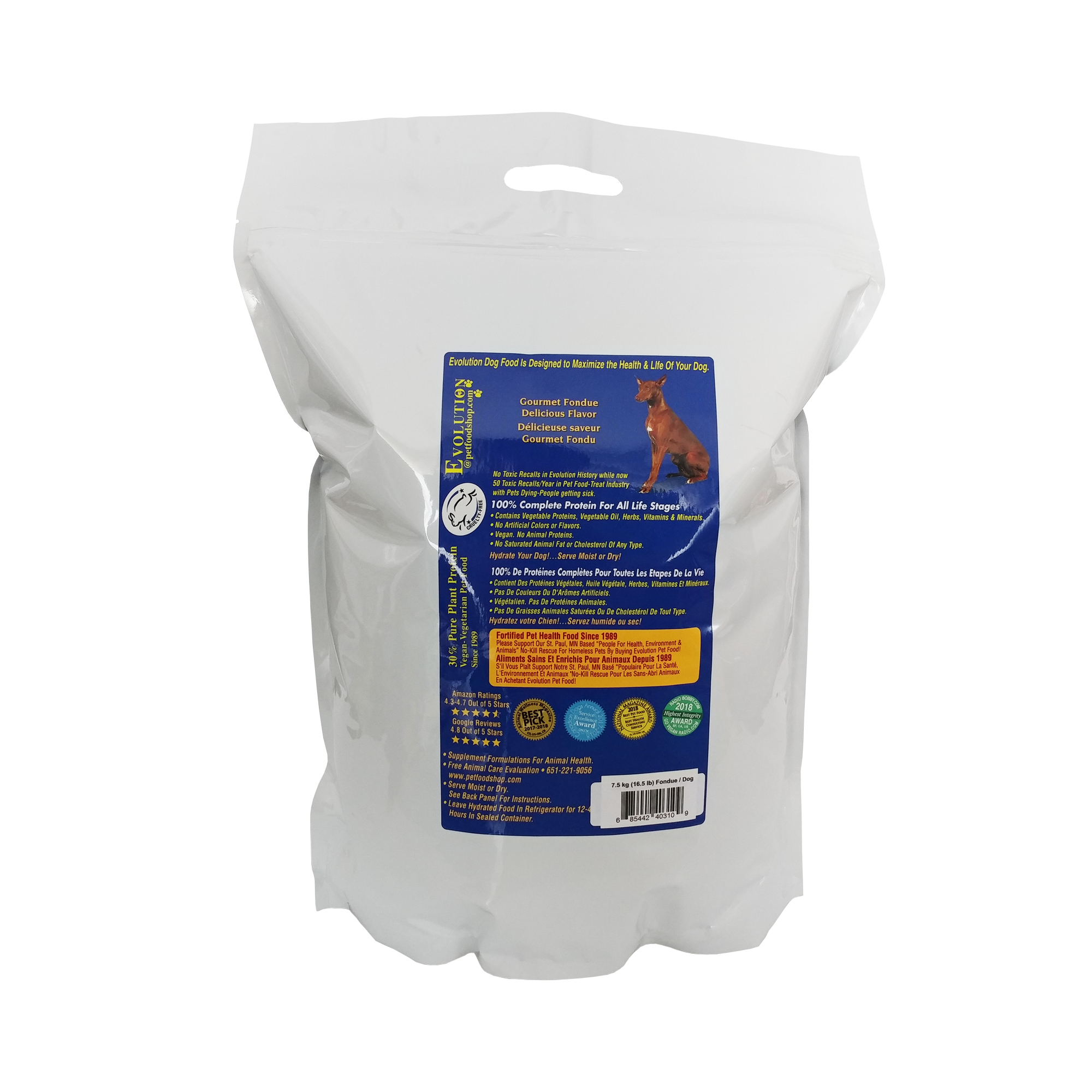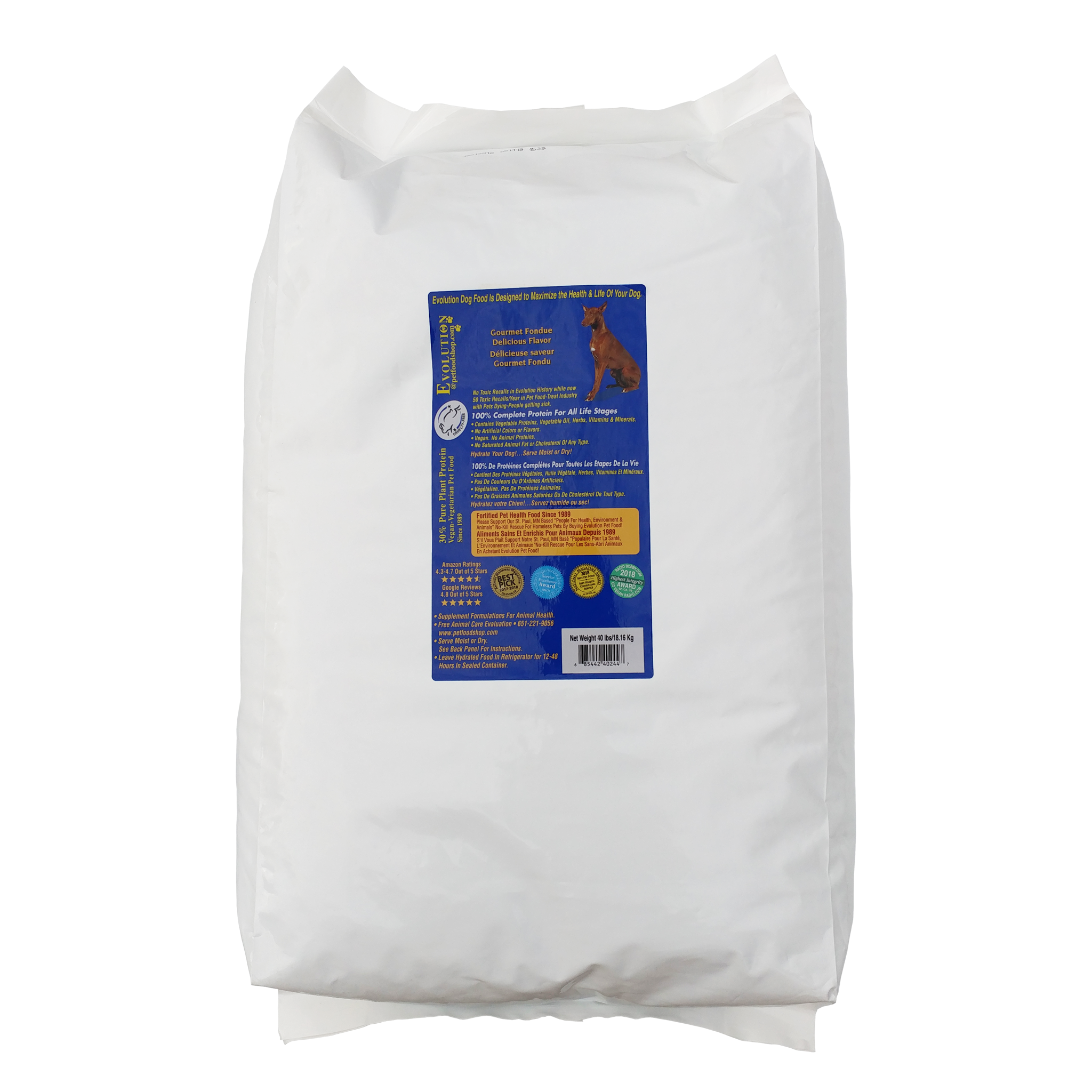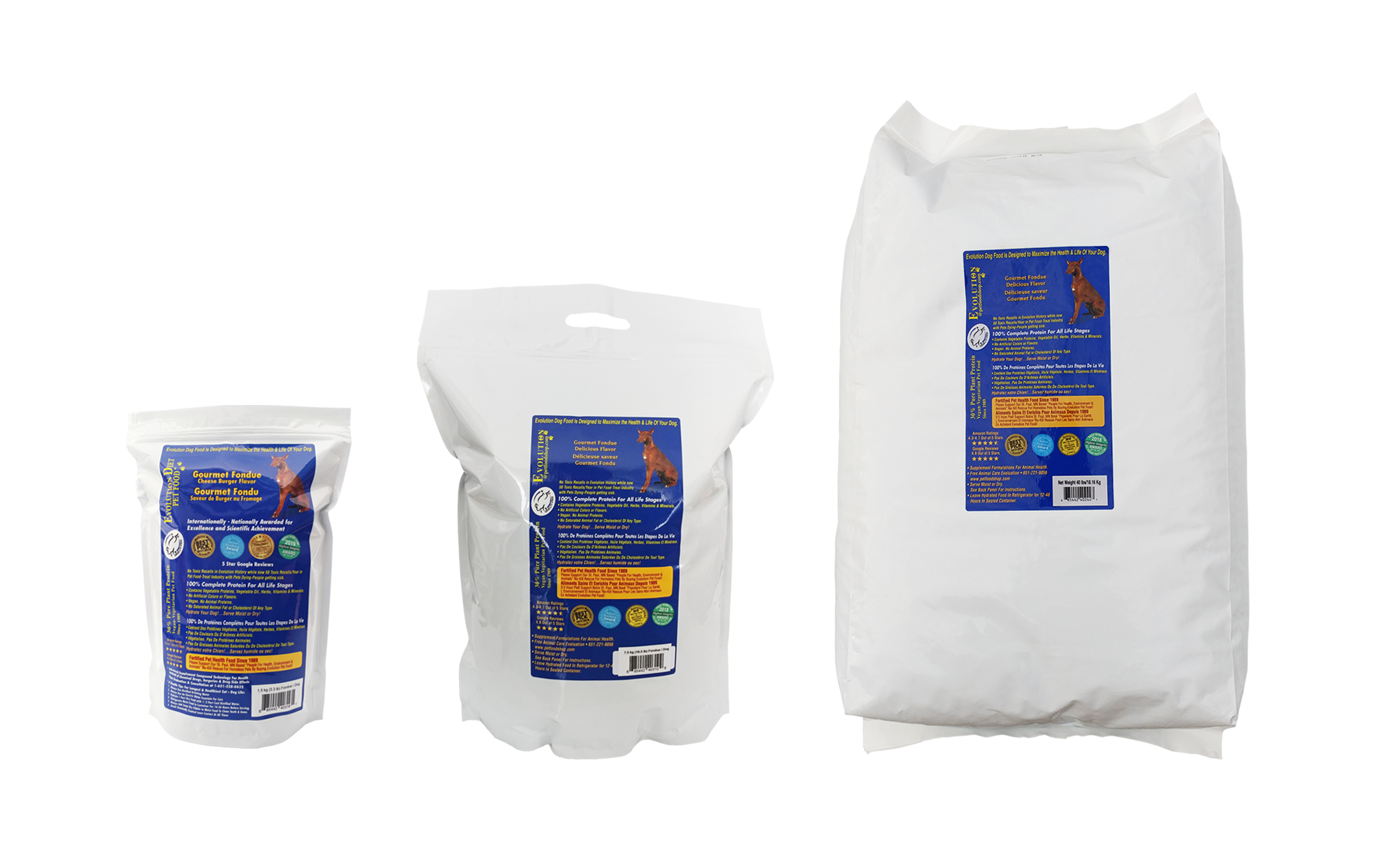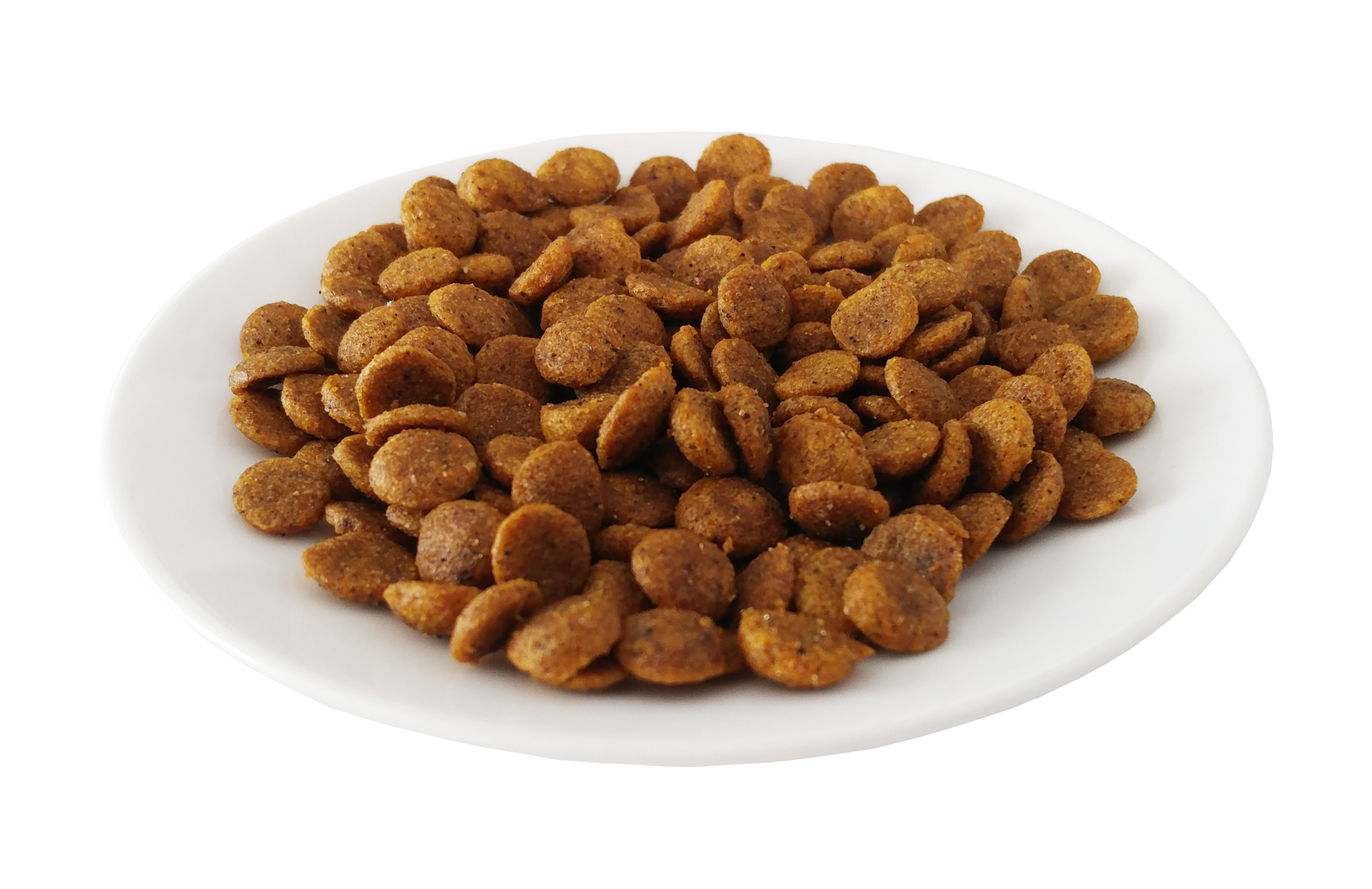 Evolution Diet
Gourmet Fondue Dog Kibble
Regular price
Sale price
$23.45
---
"Gourmet Fondue Delicious Cheese Flavor" dog food is formulated to meet the nutritional levels established by the AAFCO dog food nutrient profiles for all life stages.

Because our food is concentrated, you may feed your pet 30% less food (see FIRST TIME FEEDING INSTRUCTIONS at the bottom). Your Dog will also have 30% less droppings and better long term health.
Additionally, expect no bad breath and no body odor attributable to bacteria, viruses, molds and fungi found in animal meal and animal by products. Evolution can say this with absolute certainty because we do not use any animal byproduct ingredients in any of our foods. 100% Vegan!
AWARDS
-A "2014 Canadian Dogs Magazine Service Award for Best Pet Food & Best Health Science Service" (St. Catherine's, Canada)
-A "2014 Animal Wellness Magazine Best Pick Award for Finest Pet Food & Health Science Procedures for Internal Diseases" (LA., CA, & St. Catherine's, Canada).
-Two Awards – "VegNews Magazine Reader's Pole Best Awards", LA, CA;
-A "U.S. Congressional Committee Award", WA, D.C.
GUARANTEED ANALYSIS
Crude Protein (Minimum) 30.0%
Crude Fat (Minimum) 14.0%
Crude Fibre (Maximum) 3.5%
Moisture (Maximum) 10.0%
| | |
| --- | --- |
| | New Ingredients |
| | Beets mixed with water are an excellent natural pro-biotic and have a beneficial effect on digestion  |
| | Cranberries improve the functioning of the urinary system, protecting the urinary tract against bacteria and infections, and also promote normal functioning of the kidneys and adrenals |
| | Higher concentration of Vitamin E may prolong the life of your pet. This vitamin has the potential to protect cell membranes from damage and maintain their elasticity, inhibit oxidation and promote growth and regeneration. Vitamin E is the source of additional strength and energy for your animal |
| | The improved formula also contains higher concentration of the Yucca Root, which benefits functioning of the liver and immune system, strengthening the whole organism. This root also improves functioning of the intestine, as well as significantly reduces the odor of excrement |
INGREDIENTS 
Oatmeal, Corn Gluten Meal, 
Soybean Oil, 
Soybean Meal, Dried Beet Pulp, Brewer's Dried Yeast, Monocalcium Phosphate, Whole Dried Peas, Dried Molasses, Dried Cranberries, Dextrose, Calcium Carbonate, Salt, Potassium Chloride, Choline Chloride, Yeast Culture, Yucca Schidigera Extract, Kelp Meal, Dried Chicory Root, Sodium Selenite, Ethylenediamine Dihydriodide, Mixed Tocopherols, 
Rosemary 
Extract
Minerals
Ferrous Sulfate, 
Zinc Oxide, 
Copper Sulfate, 
Manganous Oxide, 
Cobalt Carbonate

Vitamins
L-Carnitine, Vitamin A Supplement, Ascorbic Acid, Vitamin E Supplement, Niacin Supplement, Biotin, 
Calcium Pantothenate, 
Thiamine Mononitrate, 
Riboflavin Supplement, 
Pyridoxine Hydrochloride. 
Vitamin B12 Supplement, 
Vitamin D3 Supplement, 
Folic Acid
Amino Acids
L-Lysine, 
Taurine, 
DL-Methionine
MOIST KIBBLE FEEDING INSTRUCTIONS
To increase the hydration of your dog, start by using the lower amount in dry feeding instructions on this bag. Animals require less solid food when fed in a moist form. Please use cool not hot water. Let stand half an hour.
FEEDING AMOUNTS PER 1 MEAL
Toy (Up to 10 lbs)  1/4 of a cup (+add 1/4 of a cup of water)
Small (11 to 30 lbs)  1/2 of a cup  (+add 1/2 of a cup of water)
Medium (31 to 60 lbs)  1 cup (+add 1 cup of water)
Large (61 to 90 lbs)  2 cups (+add 2 cups of water)
Extra Large (Over 90 lbs)  2.5 cups (+add 2.5 cups of water)
PUPPIES
Puppies can be started on Gourmet Fondu Delicious Cheese Flavor as early as they begin to nibble at solid foods (usually 3 to 4 weeks of age). Until 6 months of age, pups should be fed all of the moistened dog food they will consume at intervals throughout the day.
ADULT DOGS
Feed dry or mixed with water, milk or broth. If served with liquid, we suggest one part of liquid to one part of dry dog food. Your dog should be fed what he or she will normally eat in a day. The following rations are recommended for adult dogs with normal activity; however, portions will be slightly higher or lower, depending on your dog's daily activity.
FIRST TIME FEEDING INSTRUCTIONS
Feed up to 1/3 less than prescription, premium and regular pet food. Furthermore, to help your pet switching from one diet to another, add 2 tablespoons of regular canned Tuna in Oil and gradually reduce to zero over 1 week. Instead of Tuna, you could also use flaked nutritional yeast, margarine, or vegetable oil. CAUTION: Whenever switching diets, dogs may vomit or get diarrhea for 2-3 days if change is not made gradually. Although not necessary, you can add fresh, raw food to optimize your pet's diet. Studies show that dogs thrive on raw food when added to cooked dry kibble.
WHAT WILL BE MY MONTHLY COST?
This depends on your dog's weight. Please use the table below to find out monthly cost of food for your dog. The third column reflects your savings when kibble is mixed with water (since Gourmet Fondue for dogs is a concentrated kibble, it expands in volume when it's wet, which results in about 30% less intake).
| | | |
| --- | --- | --- |
| Weight of animal | Monthly cost of food (dry kibble) | Monthly cost of food (with water)* |
| 0-10 lbs | $10 | $7 |
| 11-30 lbs | $20 | $14 |
| 31-60 lbs | $39 | $27 |
| 61-90 lbs | $78 | $55 |

HOW LONG WILL A BAG LAST?
Please use this table to find out how long a bag of food will last for your dog. Use this table for planning ahead and budgeting. 
When you add water to kibble the product will last 20-30% longer.
| | | | | |
| --- | --- | --- | --- | --- |
| Weight of animal/Size of bag | 5 lb bag | 10 lb  | 20 lb  | 40 lb |
| 0-10 lbs | 5 weeks | 2.5 months | 5 months | 10 months |
| 11-30 lbs | 18 days | 5 weeks | 2.5 months  | 5 months |
| 31-60 lbs | 10 days | 3 weeks | 5 weeks | 2.5 months  |
| 61-90 lbs | 6 days | 10 days | 3 weeks | 5 weeks |
---