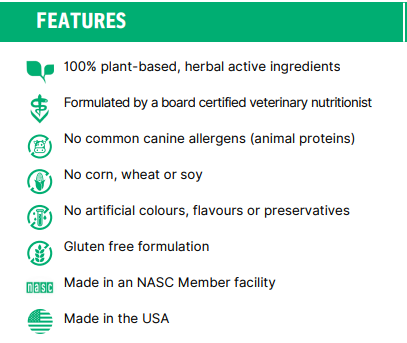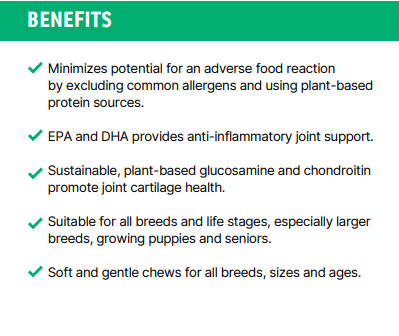 Vivus
Vivus Joint and Mobility Support Supplement Chews - 100 g
VIVUS' Joint and Mobility Support Supplement Chews are made from natural superfood ingredients to support dogs of all ages, especially senior dogs. These yummy chews contain plant-based glucosamine, chondroitin and omega-3 fatty acids for joint cartilage support and anti-inflammatory effect. The natural and plant-powered active ingredients provide functional support without the risk of adverse side effects.

Promote joint and hip mobility
Support the maintenance and growth of healthy cartilage
Herbal active ingredients for anti-inflammatory effect

Based on the active ingredients, this supplement may be recommended for dogs with the following conditions or requirements:
Healthy dogs of all ages, shapes and sizes
Growing puppies
Large breeds
Seniors
Dogs with degenerative joint diseases, including arthritis and joint pain
Competitive, sporting and working dogs
Active ingredients: GreenGrown® glucosamine 300 mg, Phytodroitin™ chondroitin 125 mg, Turmeric 100 mg, Algal oil 50 mg, Black pepper 10 mg
Kcal/chew: 4
Inactive ingredients: Citric acid (natural preservative), coconut glycerin, coconut oil, nutritional yeast, plant-based chicken flavour, rosemary extract, sunflower lecithin, sunflower oil, sweet potato, water.
Feeding guidelines:
Dog size 
Extra small (< 5 kg)  - 1 chew/day
Small (5-10 kg)  - 2 chews/day
Medium (10.1-20 kg) - 3 chews/day
Large (20.1-40 kg) - 4 chews/day
Giant (> 40kg) - 5 chews/day

Net weight: 100 g.
----------------------------
Green Grown® Glucosamine
Glucosamine an amino sugar, commonly found as ingredient in joint supplements to promote healthy, well-lubricated cartilage. Usually, glucosamine is derived from the exoskeletons of crustaceans and shellfish, but Green Grown® Glucosamine is produced from the fermentation of plant tissues to create a totally plant-based glucosamine so identical to glucosamine obtained from animals that standard testing methods can't even tell them apart. The efficacy of glucosamine may be enhanced by combining with chondroitin.

Phytodroitin™  Chondroitin
Chondroitin is a polysaccharide found in cartilage, ligaments and connective tissues in animals and used in joint supplements, typically in conjunction with glucosamine, to provide nutritional precursors for cartilage and joint fluid. Phytodroitin™ is a plant-based chondroitin alternative created from a blend of sea vegetable (sea lettuce / Ulva lactuca and rockweed / Fucaceae fucus vesiculosus) extracts. Extracts from these plants not only provide the same building blocks as chondroitin, but also bring on board their own potential health benefits.

Turmeric and black pepper
Turmeric is a spice derived from the root of the Curcuma longa plant that has been used in Ayurvedic medicine. Curcumin, a component of turmeric, has anti-inflammatory properties that have been compared to non-steroidal anti-inflammatories. There is evidence to demonstrate that turmeric can be beneficial in mitigating pain from osteoarthritis and increasing joint function. One of the challenges, however, with using curcumin as an anti-inflammatory agent is the low bioavailability - most of the curcumin in ingested turmeric stays within the gastrointestinal tract (where it does also have excellent local anti-inflammatory activity). This can be improved by adding black pepper - the piperine component in black pepper aids in the absorption and can increase the amount of curcumin that is actually systemically absorbed.    

Algae oil
Marine oils are concentrated sources of EPA and DHA, conditionally essential fatty acids. In growing puppies, EPA and DHA are required for normal neural development, while in adults, EPA and DHA provide anti-inflammatory support and are beneficial for heart and kidney health and function as well as reducing pain and inflammation around arthritic joints. While fish oils are the traditional source of EPA and DHA, algae oil has been demonstrated to be safe and efficacious supplementation for dogs - after all, algae is where the fish obtained it from in the first place!