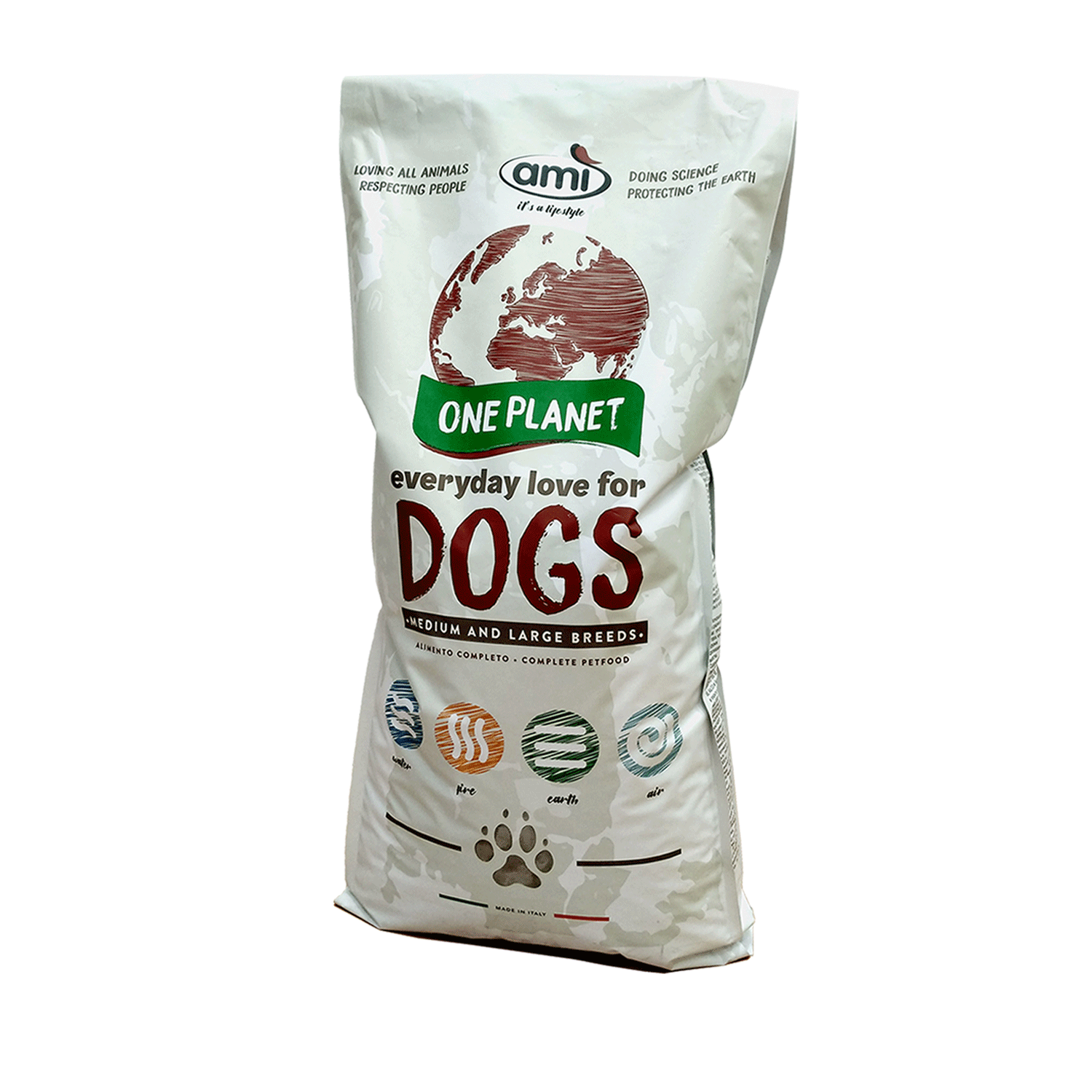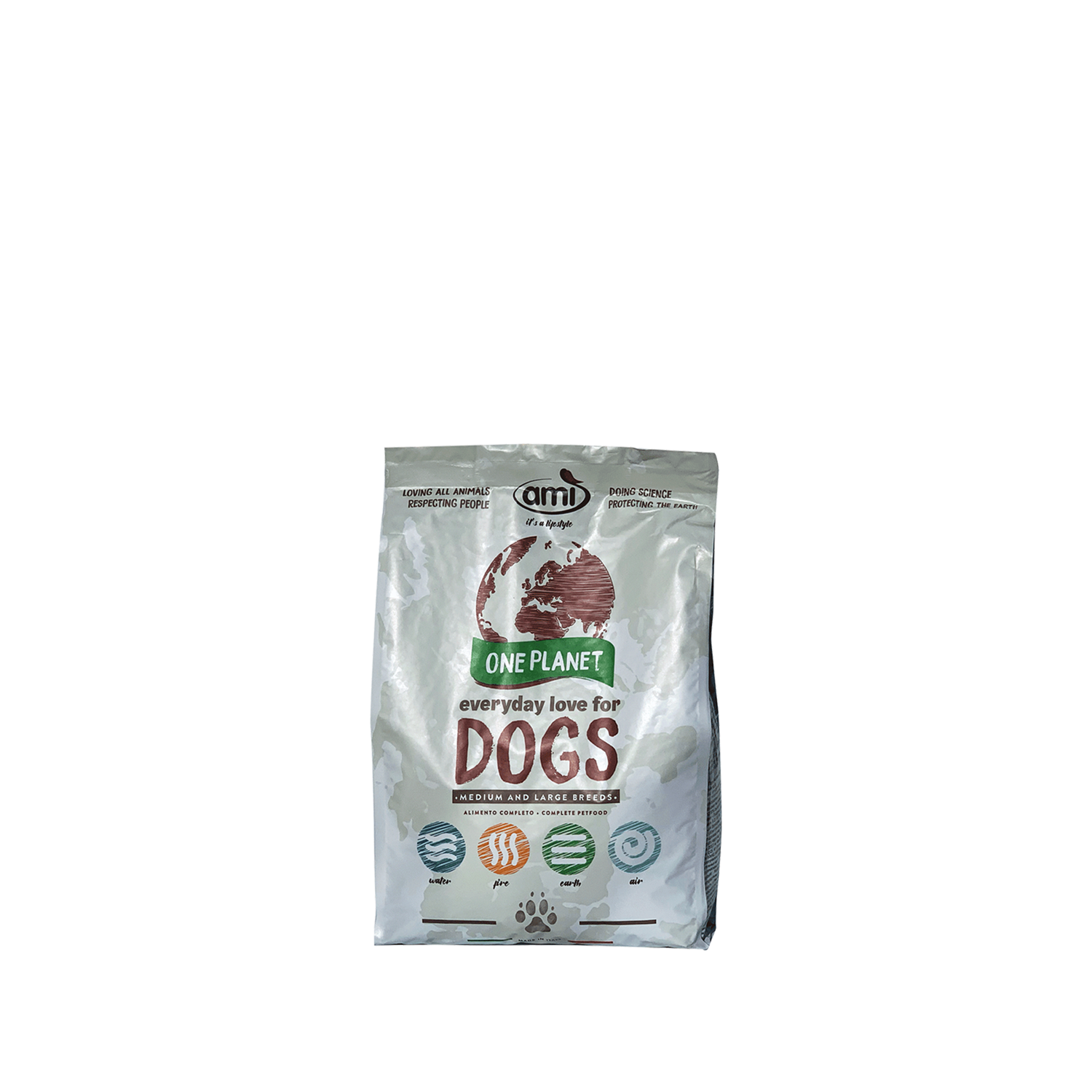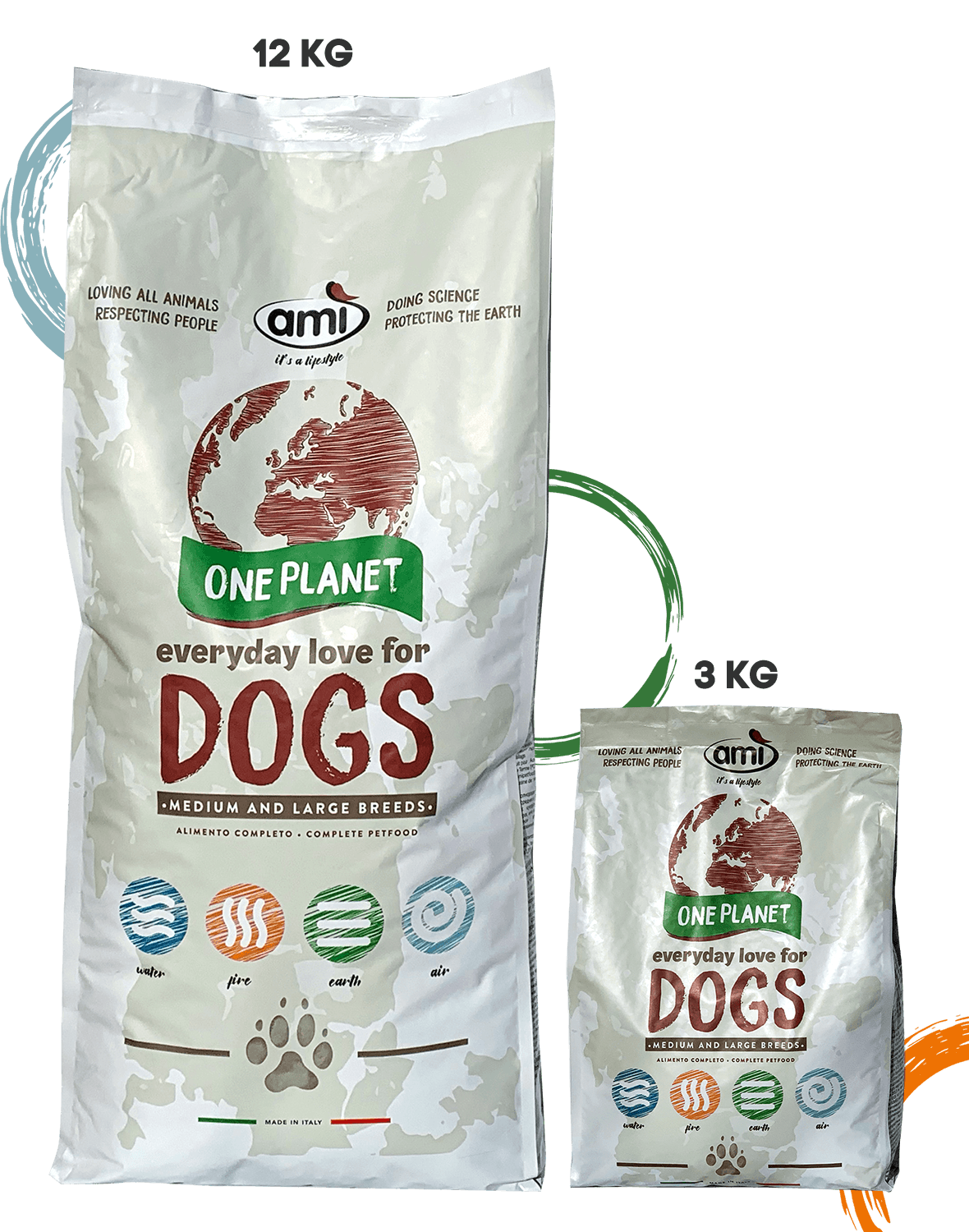 Ami
Ami Dog
Ami Dog formula is a complete and balanced formula, ideal for adult dogs, and made from 100% plant-based sources with no artificial dyes or preservatives.
The formula is hypoallergenic and works especially well for dogs with allergies and food sensitivities. Ami Dog food is ultra digestible, nutritious, light, and gives dogs more vitality and health.
Ami Dog helps solve the typical problems of poor nutrition – improves heavy or slow digestion, increases appetite and reduces fatigue.
Kibble Size Comparison
Note that the large kibbles are about 12mm in diameter and the small kibbles are about 9mm in diameter.
Key benefits
100% plant-based kibble for adult dogs
non-GMO
hypoallergenic
ultra digestible, nutritious and light

gives more vitality and health
helps with slow digestion, increases appetite and reduces fatigue
no artificial colours, no artificial flavours and no preservatives
The main ingredients are 
non-GMO corn
,
rice protein and whole peas 
(see INGREDIENTS section for a full list of ingredients).
| | |
| --- | --- |
| | Corn (non-GMO) – a highly digestible, quality protein, containing essential fatty acids, which help with the health of the skin and coat; contains carotene (Vitamin A), Vitamin E, and lutein for eyesight. |
| | Rice Protein –  provides essential amino acids, and vitamins B and E. Rice protein is hypoallergenic and easily digestible. |
| | Whole Peas – an excellent source of carbohydrates, fibre, protein, and many essential vitamins and minerals, as well as amino acids required by dogs. Peas contain insoluble fibre, soluble fibre, and resistant starch, which provides benefits for the digestive system. |
GUARANTEED ANALYSIS
Crude protein 25.00%
Crude oils and fats 12.00%
Crude fiber 3.50%
Crude ash 4.00%
INGREDIENTS 
Corn gluten, corn, rice, peas, sunflower seed meal, corn oil, hydrolyzed vegetable proteins, and minerals.

NUTRITIONAL SUPPLEMENTS 
Vitamin A 21.000 IU/kg
Vitamin D3 1.500 IU/kg
Iodine 2mg/kg (Coated granulated calcium iodate, anhydrous 3.08 mg)
Copper 9.6 mg/kg (Copper [II] sulphate pentahydrate 25.15 mg, Copper [II] chelate of protein hydrolysates 32 mg)
Manganese 25.4 mg/kg (Manganous sulphate, monohydrate 78.2 mg)
Zinc 100 mg/kg (Zinc sulphate, monohydrate 205.5 mg, Zinc chelate of protein hydrolysates 572.5 mg)
Selenium 0.05 mg/kg (Selenised yeast Saccharomyces cerevisiae CNCM I-3060, inactivated 22.75 mg)
Tocopherol-rich extracts from vegetable oils 3.000 mg/kg.
FEEDING AMOUNTS*

5-10 kg ........ 110-200 grams
10-15 kg ........  200-260 grams
15-20 kg ........  260-320 grams
20-30 kg ........  320-420 grams
30-40 kg ........  420-500 grams
40-50 kg ........  500-620 grams
*Daily amounts
Feeding amounts are calculated on medium food requirements. Amounts may change depending on age, activity level and temperament.
FIRST-TIME FEEDING INSTRUCTIONS
When switching to Ami, gradually introduce it over a 1-week period (see diagram below).
ADDING WATER
Ami may be served either dry or lightly moistened with warm water.
STORAGE
Store in a cool dark place.
---