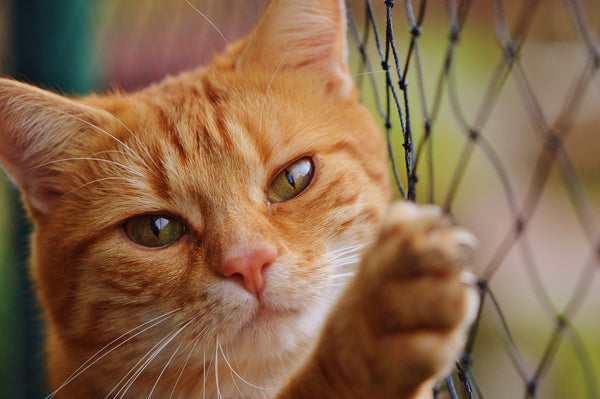 Story about Tsundere - In the long search for the right food...
The long search for the right food...
My cat was a feral rescue. He was ~1.5 years old when I got him in September and had only been at the pet store for a few days. They were feeding him a Whiskas dry blend of some kind, the ingredients were disgusting and it explains the low price of the, so called, food.
Thus began my journey to find the best food to feed my cat on the planet (I eat the best and I expect my family to eat the best).
I bought him Science Diet, because of the hype (and it was the, and I use this phrase loosely, best in Pet Smart) upon closer examination of the ingredients I was mortified to see that it was primarily pig fat and pig entrails in the ingredients list, pork is in the top echelon of things that should not be consumed by anything living.
I set out to find a new cat food that better than the best, and that led me to Accana's Grasslands lamb formula. I didn't like that lamb entrails were included in the formula and I couldn't get a Google return on non-Gmo pet food, after two days of trying to do research on the subject I hit a wall.
Tsundere
(my cat) seemed well enough on the food and Lamb is infinitely better than pork. After watching a
lecture on the vegan nature of animals
 I decided to try and take another look for pet food, this time I ran a search for vegan cat food and returned some results, then found
non-GMO
vegan cat food and that's when I bought
a 40lbs bag of it from Vecado
.
My cat started eating the dry food regularly the day we got it. I don't know if he likes the flavor, I personally find it a little bland, but I like the fact that if he refused to eat it, it was fine for me to eat, yes, I tasted the food, it's vegan and non-GMO, if I didn't have a Sobey's in this backwater city (Chatham-Kent, Ontario) I would be only eating this cat food because I eat for health and not to satisfy the lust of my belly. My cat didn't complain about the food and he took to it right away, I'd call that a win on the radical change of nutrition intake front.
Tsundere had bowel movements of 1x/day on the Accana and has 2x/day on the new food, that means that only one of us is full of shit at any given time of the day.
Tsundere used to be a calm, quiet, slightly lethargic feline and I liked that, but now he's a hyper little kitty who talks all the time, he's constantly stalking me to get me to play with him, whenever I get up to go do something he's mowing to hold my hand out so he can stand up and give me kisses, it's annoying, but he's so cute that it melts my heart at the same time.
He's started trying to eat my salads and sandwiches (I prepare all my own meals and use as many certified organic ingredients I can get my hands on) I can't even eat broccoli sprouts without having to feed him some as well. He is more energetic, which makes him more curious and playful, which is a good or bad thing depending on my mood and the little turd is smart enough to know just when to give me some cat kisses to make it all worth while.
He's a comical little kitty.
The delivery was prompt and I discussed my concerns about the free samples that were included in my order (at no extra charge) with
info@vecado.ca
and I received a response in less than 24 hours which included the following:
1. A thank you for my concern
2. An apology for the situation
3. A promise to correct the points I addressed
This is a lot more than most fortune 500 businesses would ever do, I'm a customer for life and given the fact that the product is vegan, non-GMO, fit for both feline and human consumption, it will be a very long business arrangement.

Also, there's over 6000 characters remaining if I had more to say, this company offers a superior product for a reasonable price and quality of service I haven't seen in over two decades (I'm 39 in about two weeks form the time of this comment).
***
Quentin S.