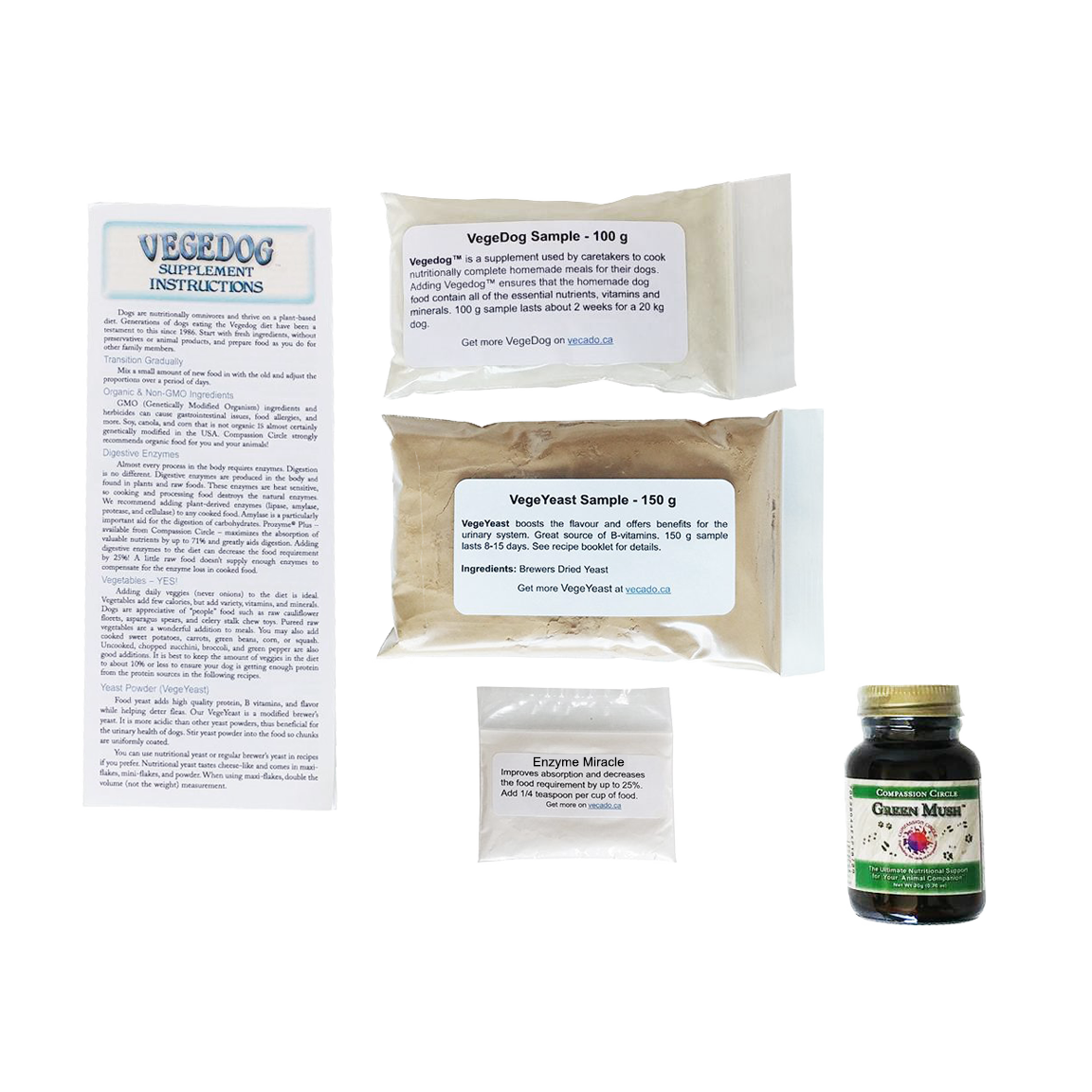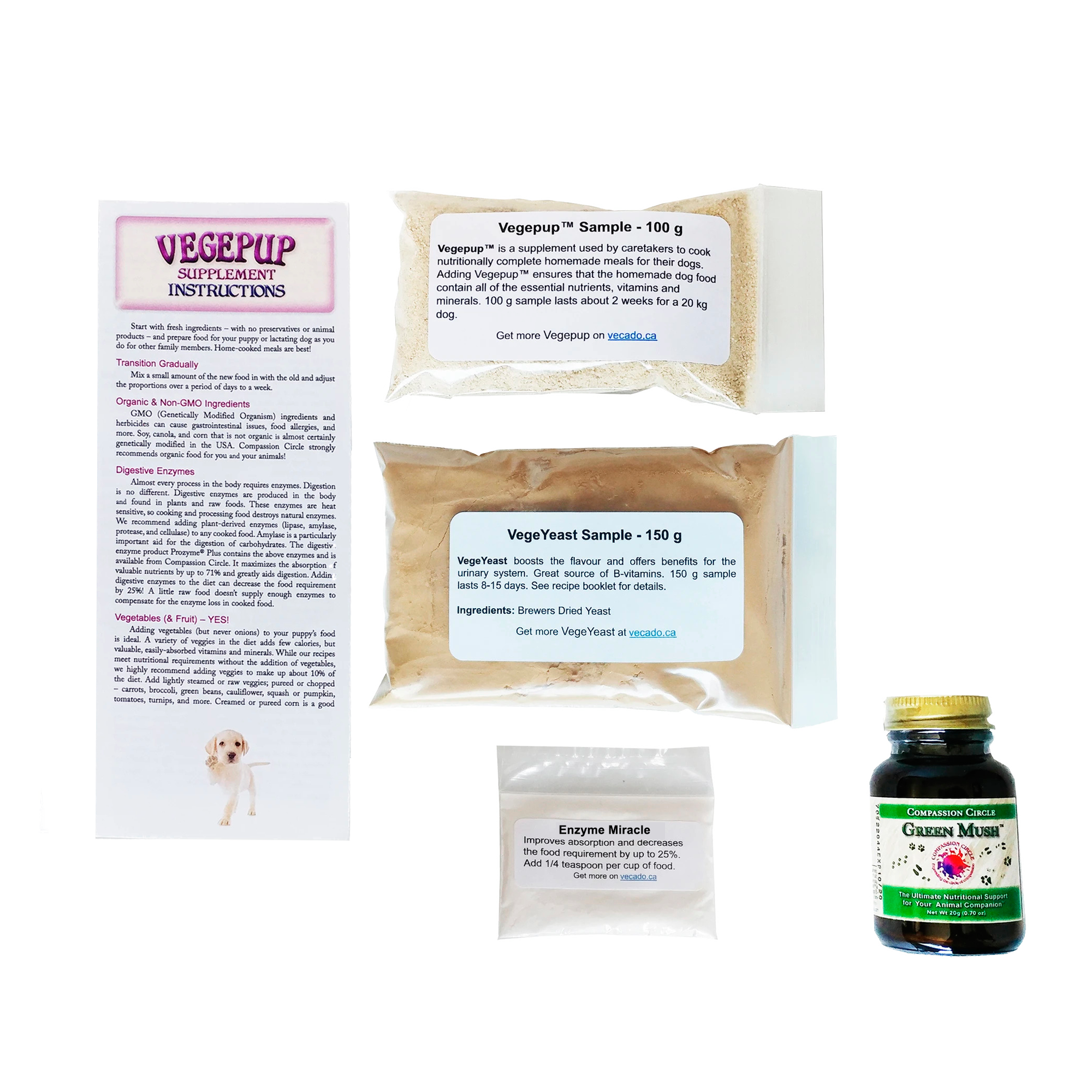 Vegepet
Vegepet Sample Pack
Regular price
Sale price
$24.50
---
Vegepet sample packs are very handy when making homemade meals for the first time - they come in a small 100 g bag (which lasts about 2-4 weeks) and include a brochure with 4-6 recipes, providing detailed instructions regarding ingredients, and the amount of supplement to use.
This sample pack is also equipped with VegeYeast, which is extensively used in the recipes to boost the flavour and to help maintaining good urinary health.
The pack contains a trial-size bottle of superfood GreenMush (also sold separately for $8), which can be added to any meal to supercharge the immune system.
Enzyme Miracle should be added for improved digestion, which is important when you transition your pet to a plant-based diet. 
Finally, these sample packs are also very handy when you run out of kibble so your furry friends have a continuous supply of vegan pet food.
Great Value! with this sample pack you save $15-20 as compared to purchasing all items individually!
Vegepet Sample Packs include:
VegePet Supplements - Your canine or feline companions will thrive on a home prepared, vegan diet that is supplemented with the appropriate Vegepet supplement. Vitamin and mineral mixes and recipes ensure your companion animal gets their essential nutritional requirements from a vegan or vegetarian diet. Vegepet supplements fill in the nutritional gaps common in home prepared food. Vegepet supplements can be used to supplement any home prepared diet. You should not add the Vegepet supplements to nutritionally-complete, commercial food.
Enzyme Miracle - is a unique, scientifically proven, all natural enzymatic food supplement. It provides the necessary digestive enzymes otherwise destroyed in cooked/processed foods. The addition of Enzyme Miracle allows greater absorption of the important nutrients found in your pet's food by up to 71%, while decreasing the food requirement by 25%. 
VegeYeast - Formulated especially for companion animals, VegeYeast is a modified brewers yeast that is loaded with B vitamins and protein. VegeYeast helps making the transition to the plant-based diet since both cats and dogs love the flavor that VegeYeast adds to their food. VegeYeast is valuable for urinary tract health and contains B-vitamins. 
GreenMush™ - is a superfood for animals and humans. It is organic, whole food, green, and 100% plant-based. Green Mush™ provides nutritional support for:

Increased Lifespan
Accelerated Healing
Greater Energy
Healthy Immune System
100% Vegan
Fully Absorbable/No Toxicity
Green Mush™ contains spirulina, chlorella, kelp, probiotics, digestive enzymes, and a large amount of CoEnzymeQ10.
Key Features
Content of the Vegedog Sample Pack - For Dogs
Vegedog Sample (100 g)
VegeYeast Sample (150 g)
Enzyme Miracle (20 g) 
GreenMush (trial size)
Vegedog Supplement Instruction
Content of the Vegecat Sample Pack - For Cats
Vegecat Sample (100 g)
VegeYeast Sample (150 g)
Enzyme Miracle (20 g)
GreenMush (trial size)
Vegecat Supplement Instruction
Content of the Vegepup Sample Pack- F
or Puppies
Vegepup

 

Sample (100 g)
VegeYeast Sample (150 g)
Enzyme Miracle (20 g)
GreenMush (trial size)
Vegepup

 

Supplement Instruction
---