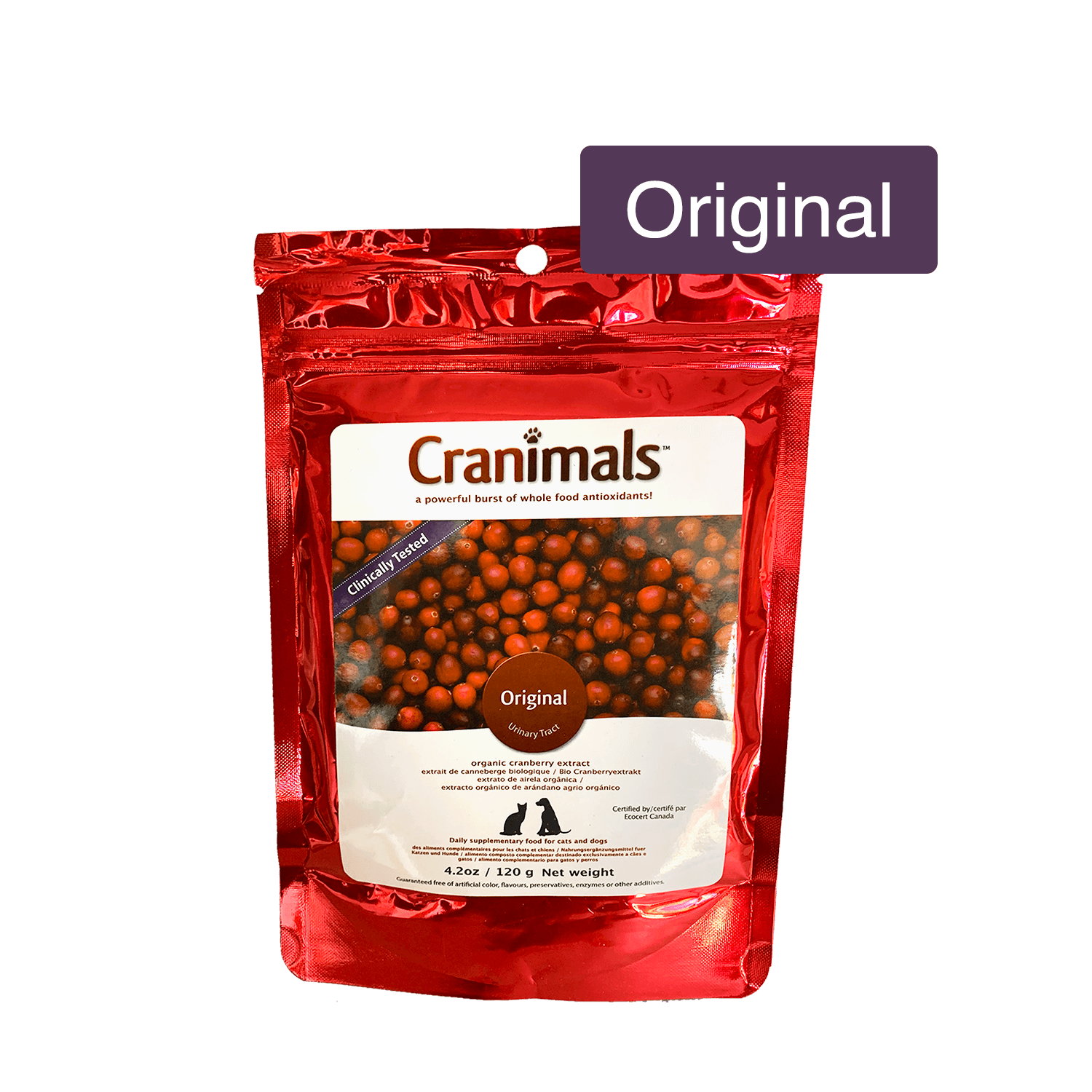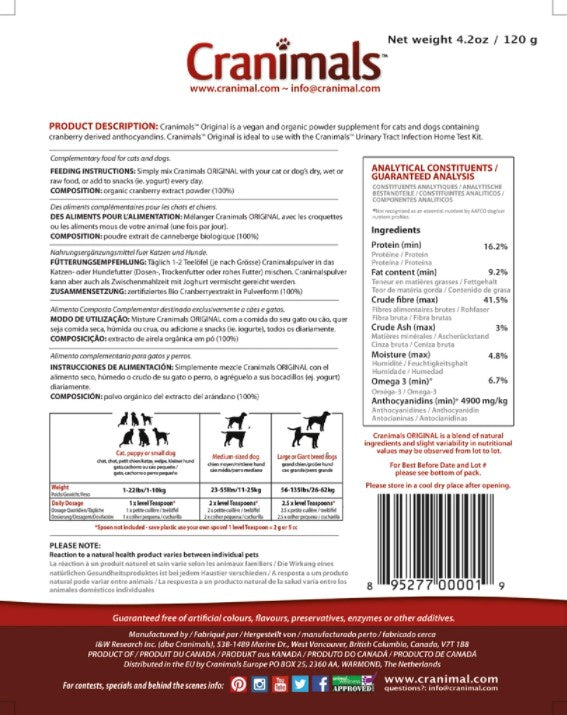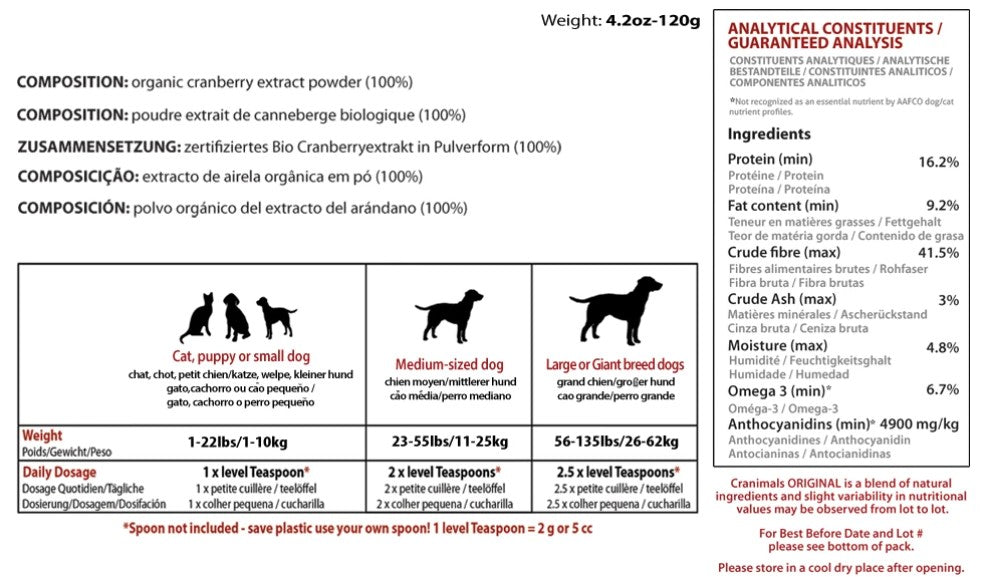 Cranimals
Cranimals Original - 120 g
Used as a supplement for urinary and dental health of cats and dogs.
Recommended for all cats and dogs on plant-based diets for UTI prevention, healthy urinary pH level, and dental health.
Urinary Health
increases the acidity in the diet as vegan foods tend to be alkalizing
prevents UTI's (Urinary Tract Infections) 
prevents FLUTD (crystals, blockages) by keeping urine's pH in the acidic range
when pets do get UTI's, Cranimals ORIGINAL has been clinically proven to work as an effective antibiotic
strongly recommended for male cats on a vegan diet for cranberry's acidic properties (link)
if you are using green superfoods

 

such

 

GreenMush, Spirulina, Chlorella etc., it is recommended to add acidifying agents such as Cranimals or VegeYeast

green superfoods have an alkaline effect on the body and it needs to be neutralized with something acidic
Dental Health
Cranimals ORIGINAL discourages the growth of plaque on teeth and gums

exhibits the same anti-adhesion effect in oral cavities as in the lining of the urinary tract
Key Features
Vegan
100% organic, GMO-Free
Human-grade (can be used in smoothies)
How do cranberries help with urinary health?
The cranberry extract contains PAC's (proanthocyanidins).
Research studies (References below) have shown that the phytochemicals in cranberries inhibit the adhesion of E. coli*, which is the bacteria responsible for most urinary tract infections, to the lining of the urinary tract, thus preventing the UTI's from happening.
A single dose of Cranimals ORIGINAL provides ~2000 mg of pure unadulterated food grade cranberry extract, the most concentrated source of (PAC's) currently available on the market.
Cranimals ORIGINAL had equivalent performance to a common antibiotic prescribed for UTIs in pets, when following dosage directions on the label.
The phytochemicals found in cranberries are anti-inflammatory, anti-viral, anti-bacterial and antioxidant.
Furthermore, the cranberry extract is acidic and counteracts the alkaline effect of vegan diets and green superfoods. Healthy pH prevents crystal formation and urinary blockages in cats and dogs.
Usage
Simply mix Cranimals ORIGINAL with your cat or dog's dry or wet food every day
Add to snacks, for example, to peanut butter
Dosage 
Cat, puppy or small dog (1-10kg) – 1 level tsp./day

Medium-sized dog (11-25 kg) – 2 level tsp./day

Large or Giant breed dogs (26-62 kg) – 2.5 level tsp./day
Form
Powder
Ingredients
Certified organic cranberry extract
Nutritional analysis
Crude protein (min.) – 16.2%
Crude fat (min.) – 9.2%
Crude fiber (max) – 41.5%
Moisture (max) – 4.8%
Crude Ash (max) – 3%
Omega 3 – 6.7%
Anthocyanidins – 4900mg/kg


References
*Chou HI, Chen KS, Wang HC, Lee WM. Cranberry-derived proanthocyanidins induce a differential transcriptomic response within Candida albicans urinary biofilms. PLoS One 2018; 13(8): e0201969
*Ofek I, Goldhar J, Zafriri D, Lis H, Adar R, Sharon N. Anti-Escherichia coli adhesion activity of cranberry and blueberry juices. New England Journal of Medicine 1991;324:1599–1599
*Zafriri D, Ofek I, Adar R, Pocino M, Sharon N. Inhibitory activity of cranberry juice on adherence of type 1 and type P fimbriated Escherichia coli to eucaryotic cells. Antimicrobial Agents and Chemotherapy 1989;33:92–98
When to use Cranimals ORIGINAL vs. Cranimals GOLD
Some factors to consider:
for cats and dogs with a history of urinary health problems we recommend Cranimals ORIGINAL

 

as it has a higher concentration of cranberry extract, which is the key ingredient for urinary health

for cats and dogs with high pH of urine we also recommend using

 

Cranimals ORIGINAL, as it is more acidic and helps balancing out the pH quicker than

 

Cranimals GOLD
for picky dogs and cats we recommend

 

Cranimals ORIGINAL

 

since not all animals like seaweed powder contained in

 

Cranimals GOLD

Cranimals ORIGINAL

 

is a human-grade product that can be used in smoothies, baking etc.

 

Cranimals GOLD

 

with the added seaweed powder has a limited number of human applications and is not recommended for human use
for growing puppies and kittens we

 

recommend Cranimals GOLD

 

since it has neurological, skin, and heart benefits; these benefits are much needed for a growing body
adult dogs and cats without urinary issues can try

 

Cranimals GOLD

 

first because in addition to urinary and dental benefits, it also has skin, heart, brain and joint benefits
| | | |
| --- | --- | --- |
| | ORIGINAL | GOLD |
| Crude Protein (min) | 16.2% | 16.4% |
| Crude Fat content (min) | 9.2% | 15.1% |
| Crude Fibre (max) | 41.5% | 32.0% |
| Crude Ash (max) | 3.0% | 4.4% |
| Moisture (max) | 4.8% | 4.5% |
| Beta Carotene (min)* |                     -   | 9400 mg/kg |
| Total Omega 3 (min) | 6.7% | 5.4% |
| DHA Omega 3 |                     -   | 4.2% |
| Omega 6 |                     -   | 1.9% |
| Choline |                     -   | 3600 mg/kg |
| Anthocyanidins (min)* | 4900 mg/kg | 2925 mg/kg |
Similar Products
---