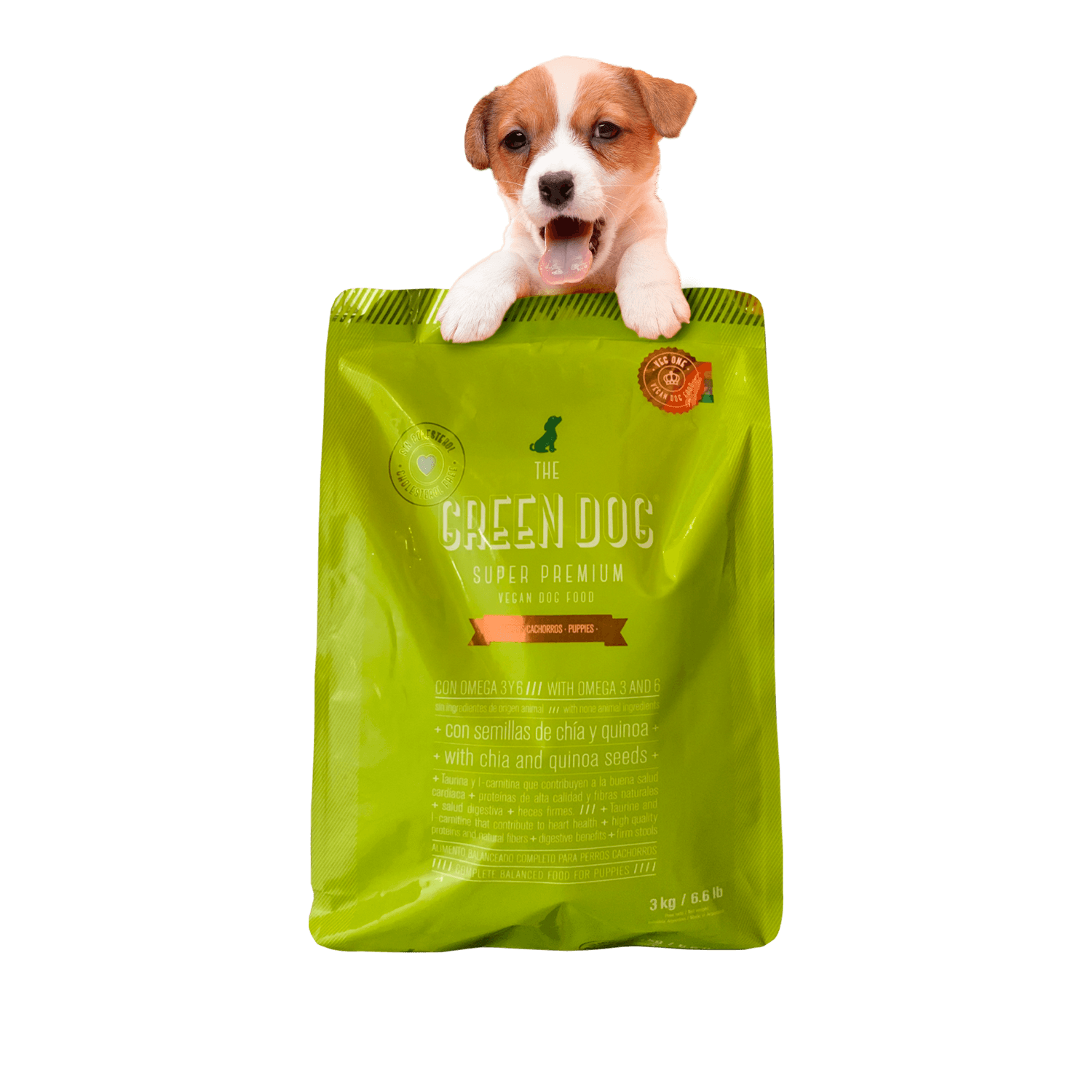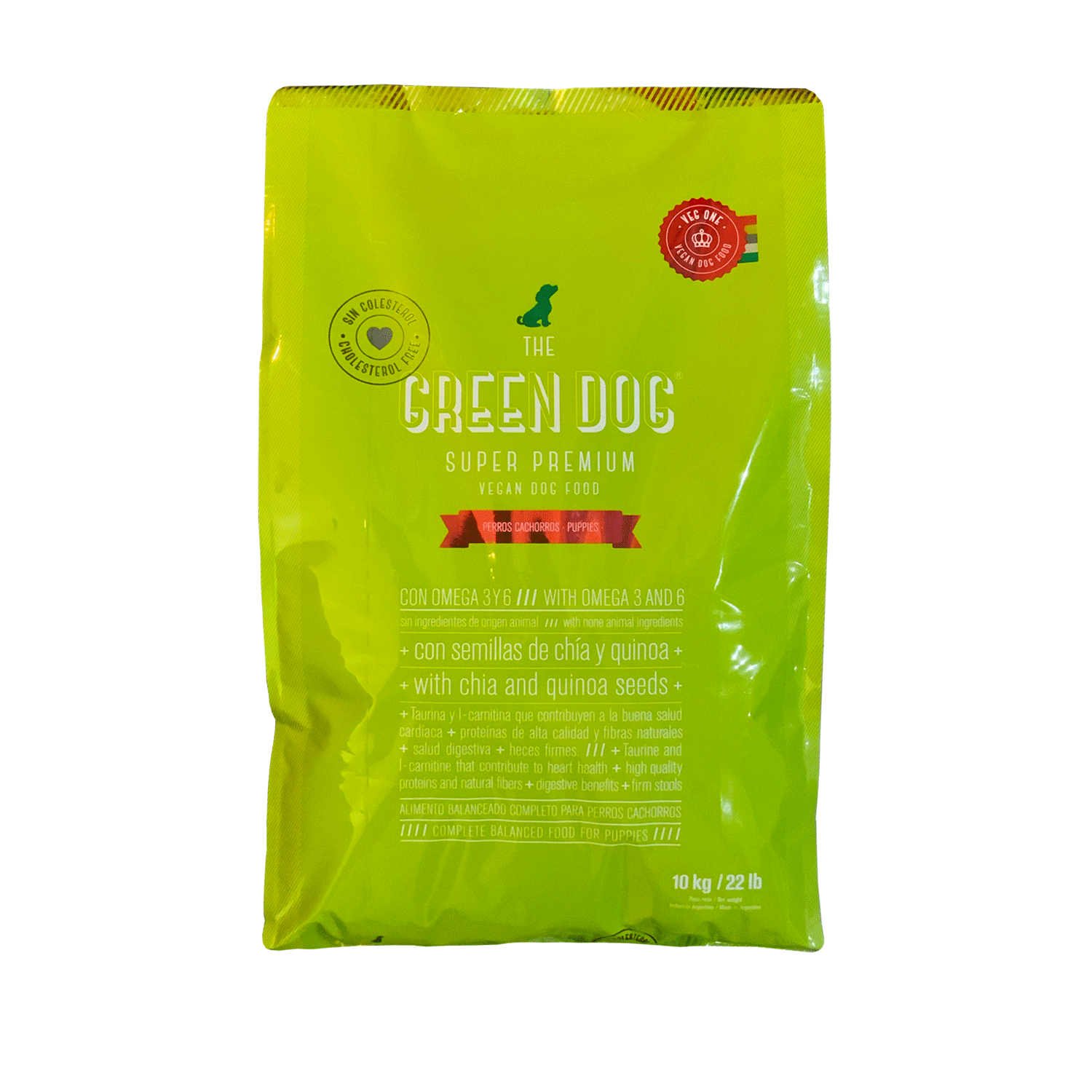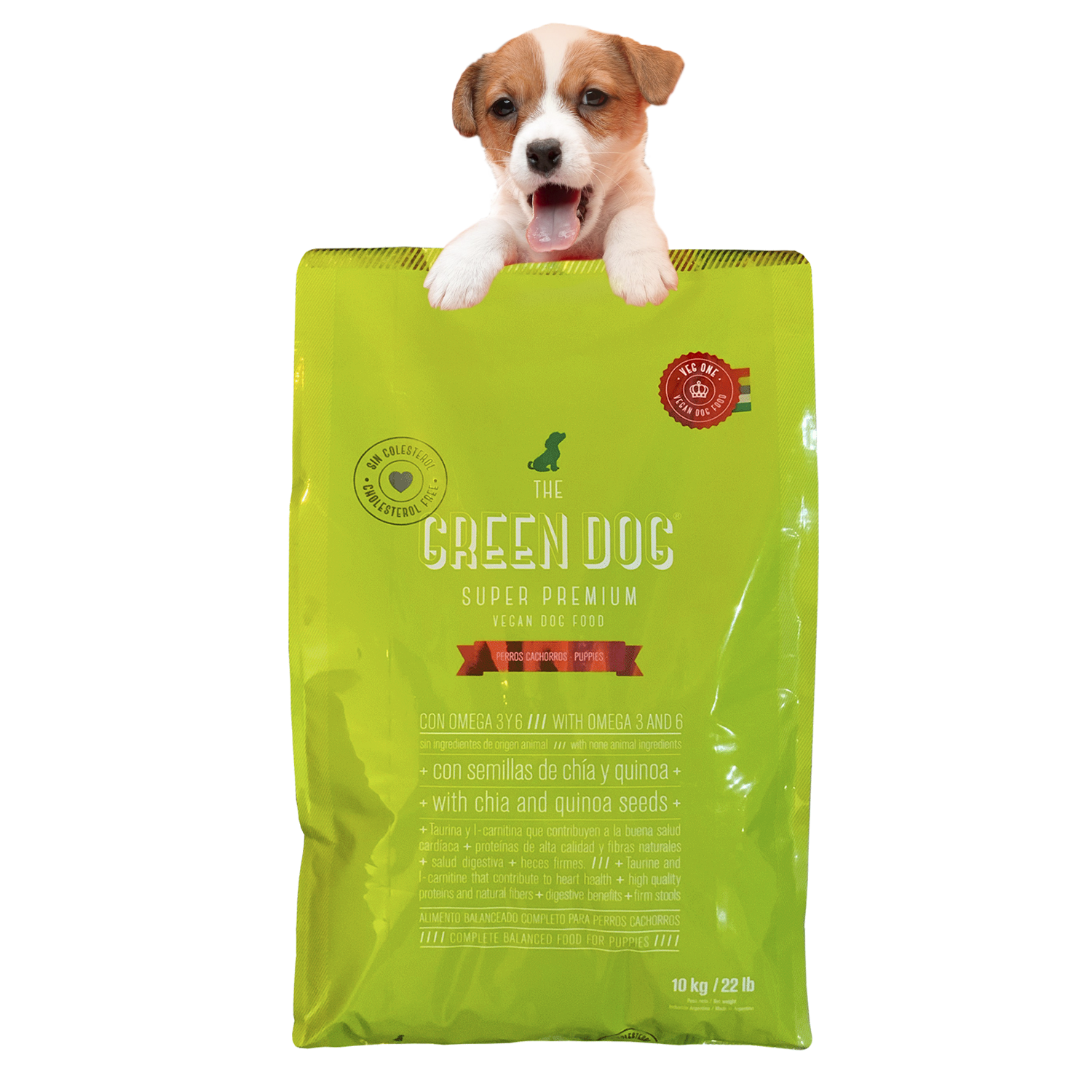 Green Dog
Green Puppy
THE GREEN PUPPY is premium dog food for puppies formulated by experts in animal nutrition. This all-natural recipe is crafted with care to provide the highest levels of protein-rich and quality nutrition for your pet. It contains the perfect balance of essential amino acids, vitamins, and minerals your puppy needs to thrive. Best of all, your puppy will love the taste!
The Green Puppy recipes for puppies include only simple, limited ingredients with no gluten to best accommodate pets with food sensitivities. 
Includes natural probiotics in the form of brewer's dried yeast that support healthy digestion in puppies. 

All of the ingredients in The Green Puppy are sourced in sunny Argentina from clean, healthy sources and are held to the highest safety standards. 
The Green Puppy is formulated to meet the nutritional level established by the AAFCO Dog Food Nutrient Profile for growth and reproduction. 
BENEFITS
Perfect nutrition for growing puppies, with a higher fat and protein content for optimal health, based on studies and veterinarian recommendations.

Easily digestible. Includes probiotics for healthy digestion. Also, unlike meat-based dog foods, The Green Puppy's ingredients are used 38% more efficiently in your puppy's body, eliminating upset stomach caused by poor-quality ingredients and boosting energy levels to maintain your pet's inborn athletic nature.

Clean sources & high-quality. Clean high-quality ingredients sourced 100% from Argentina. Packed with vitamins, minerals, and zero ingredients from China or South-East Asia. 

Allergy-Friendly. Gluten-free and animal cruelty-free. No meat and meat byproducts cause allergies and skin issues in many puppies. 

Better digestion. Improves appetite and digestion. Helps with digestive issues, from loose stool to constipation. 

Optimal health. Helps to prevent many health issues, including obesity, heart disease, fatty tumors, thyroid issues, infections, and parasites caused by meat byproducts. Provides greater stamina, vitality, and a healthy immune system.

Healthy skin, teeth & musculoskeletal system. Supports joint and muscle health. It helps teeth and gums to stay healthy and strong. Lowers risk for articular gout, bones, and joint deposits.  

Delicious. Your dog will love the taste! The taste of peanuts leaves no dog indifferent.  
INGREDIENT 
Soybean Meal, Corn, Peanuts, Oil and Vegetable Fat [Soybean Oil], Dicalcium Phosphate, Calcium Carbonate, Aluminum Calcium Silicate, Sodium Chloride, Sodium Bicarbonate, Dried Beet Pulp, Brewer's Dried Yeast, Rosemary Extract, Inulin, Yucca Mohave, Chia Seed, Quinoa Seed, Natural Flavoring Substances, Choline Chloride, DL-methionine, Taurine, L-carnitine, Vitamins A, D3, E, B1, B2, B6, K3, B12, Potassium Sorbate, Calcium Propionate, Antioxidant [BHT/BHA], L-lysine, Zinc Sulfate, Niacin, Magnesium Chloride, Ferrous Sulfate, Calcium Pantothenate, Copper Sulfate, Manganese Oxide, Calcium Iodate, Folic Acid, Sodium Selenite, Biotin.
GUARANTEED ANALYSIS
Crude Protein (min) 27%
Crude Fat (min) 14%
Crude Fiber (max) 4%
Moisture (max) 10%
Minerals (max) 8%
Ash (max) 9%
Omega-6 Fatty Acids (min) 1.7%

Calcium (min) 1.2%
Zeolite 1.1%
Phosphorus (min) 0.9%
Sodium Chloride 0.45%
Sodium Bicarbonate 0.25%
Omega-3 Fatty Acids (min) 0.24%
Dried Beet Pulp 0.2%
Brewer's Dried Yeast 0.2%
Rosemary Extract 0.2%
Inulin 0.1%
Yucca Mohave 0.05%
Chia Seed 0.05%
Quinoa Seed 0.05%
DL-methionine 0.025%
Taurine 0.025%
L-carnitine 0.015%
Vitamin A 20000 UI/kg
Vitamin D3 2000 UI/kg
Antioxidant [BHT/BHA] (max) 150 mg/kg
Zinc Sulfate [zinc 120 mg/kg]
Ferrous Sulphate [80 mg/kg]
Copper Sulfate [copper 10 mg/kg]
Manganese Oxide [manganese 6 mg/kg]
Calcium Iodate [iodate 4.5 mg/kg]
Sodium Selenite [selenium 0.3 mg/kg]
FEEDING AMOUNTS
under 11 lb (<5kg): 0.24 lb (110 g)*
11-22 lb (5-10 kg): 0.24-0.42 lb (110-190 g)
22-33 lb (10-15 kg): 0.42-0.57 lb (190-280 g)
33-44 lb (15-20 kg): 0.57-0.68 lb (280-310 g)
44-66 lb (20-30 kg): 0.68-0.90 lb (310-410 g)
66-88 lb (300-40 kg): 0.90-1.15 lb (410-510 g)
88-132 lb (40-60 kg): 1.15-1.57 lb (510-710g)

* Daily amount
---