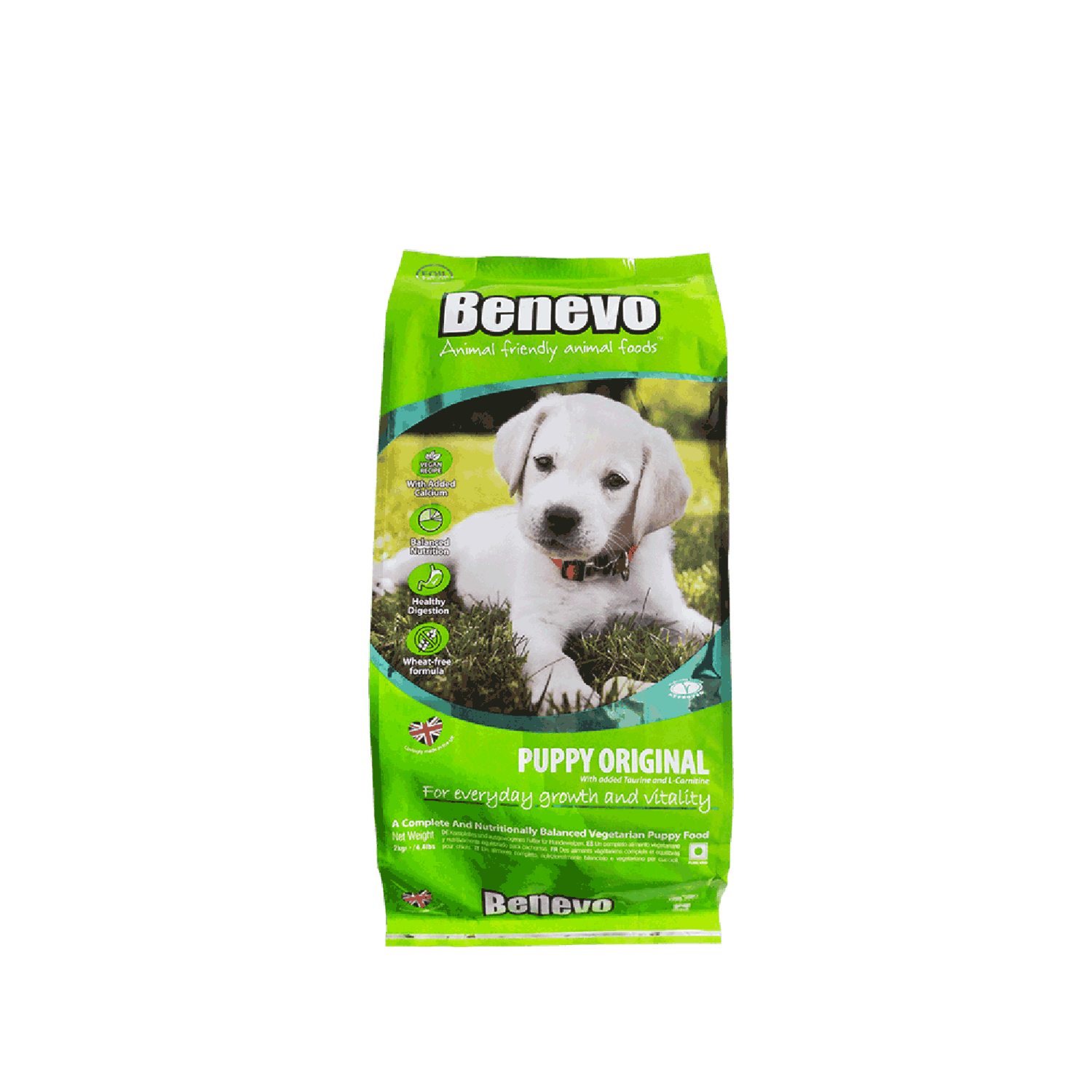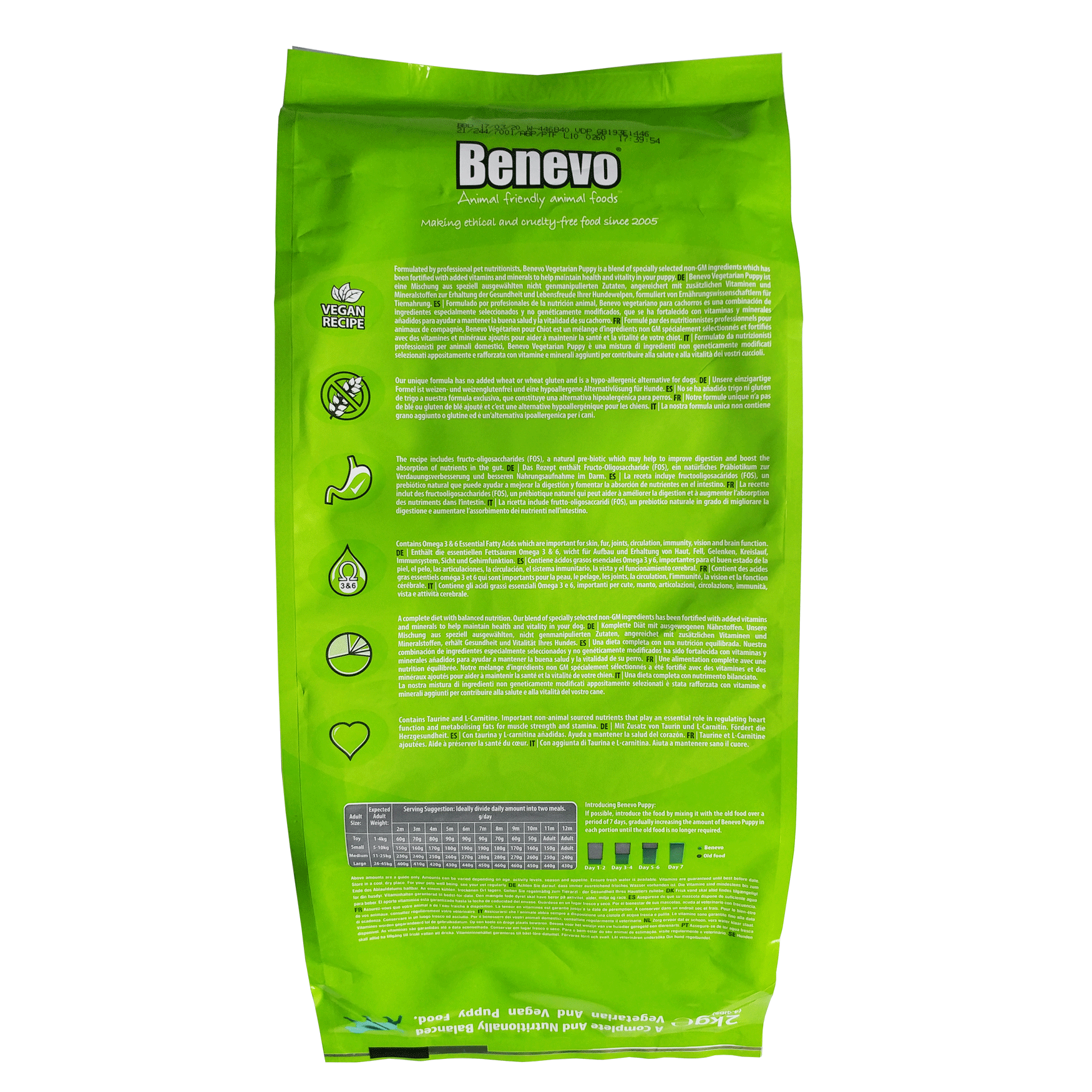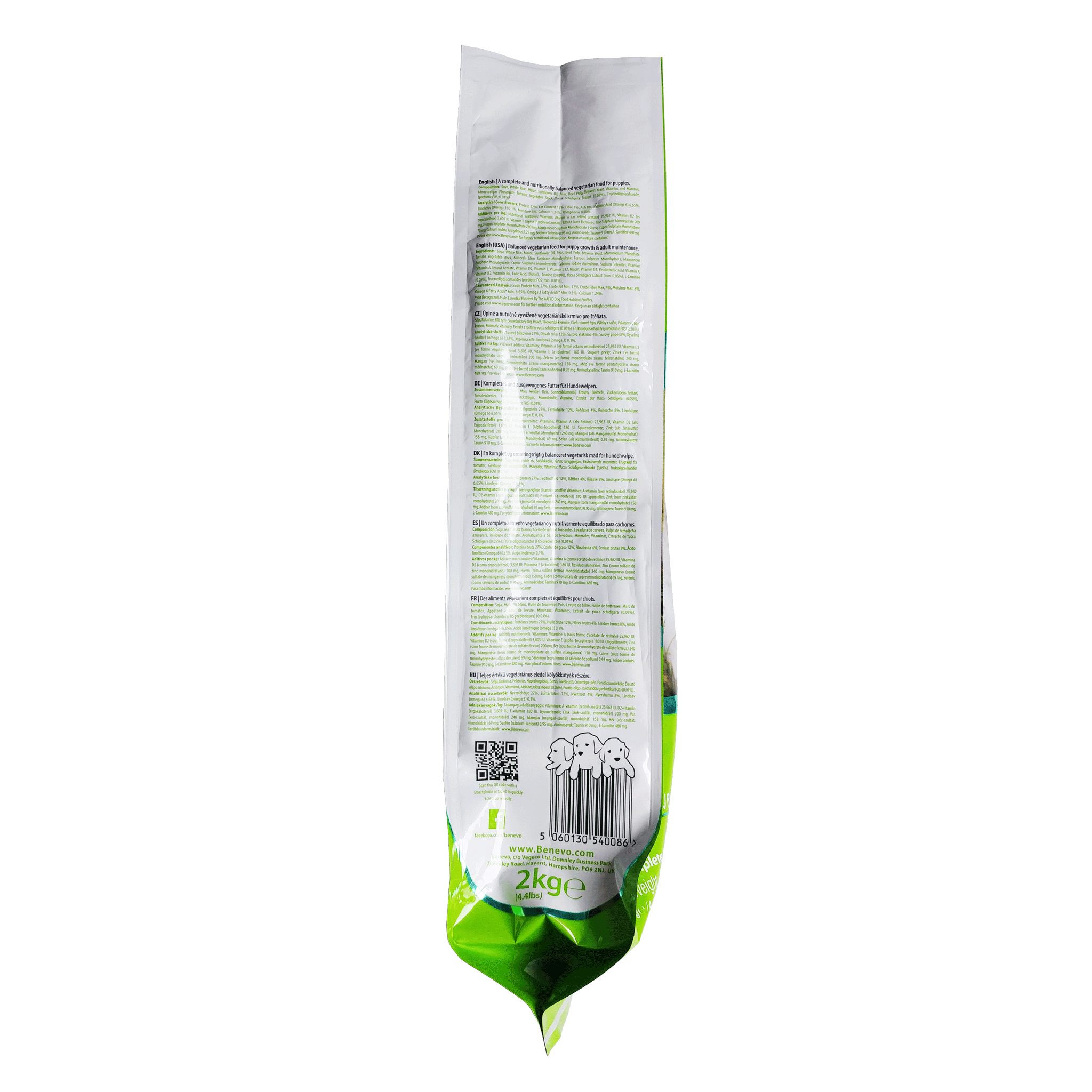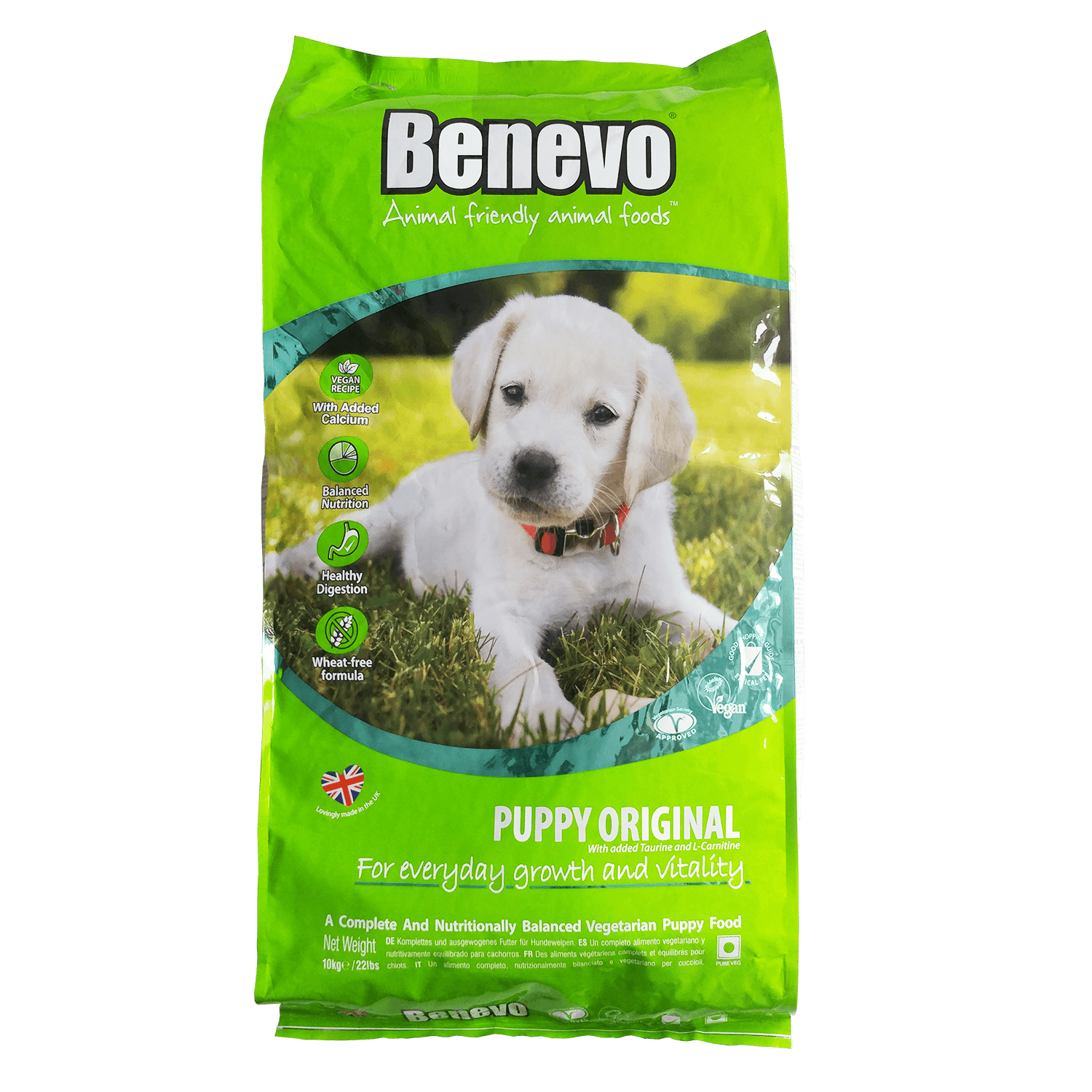 Benevo
Benevo Puppy Original
Regular price
Sale price
$36.28
---
Benevo Puppy Original
 

is a nutritionally complete and balanced food formulated for growing puppies, manufactured since 2012.


The first complete vegan puppy food made in the UK, Benevo Puppy has added calcium, vitamins and minerals to meet the pup's growing needs.

Benevo is the largest independent vegan pet food company in the World.
Why do puppies need specially formulated food?
The main difference between ready-made food for puppies and the food made for adult dogs is richness of nutrients - puppies require more vitamins, calcium, phosphorus and other trace elements. You can see the comparison between Benevo Puppy vs. Benevo Adult formula below:
Benevo Puppy formula takes all of the needs of a growing body into account. Moreover, small breed puppies have their own requirements and this puppy formula accounts for those developmental characteristics (see feeding instructions section for more details on how to feed small breed puppies).
Key Features
Formulated by professional pet nutritionists. 


Benevo Dog Original is a tasty and digestible food prepared without animal ingredients, artificial flavours or colours
Wheat-free Recipe. Unique formula has no added wheat or wheat gluten and is a hypo-allergenic alternative for dogs
1st Dedicated Vegan Kibble formulated specifically for Puppies
Contains Omega 3&6 Essential Acids which are important for skin, fur, joints, circulation, immunity, vision and brain function

Non-GMO Ingredients.

 A complete diet with balanced nutrition. A blend of specially selected non-GM ingredients has been fortified with added vitamins and minerals to help maintain health and vitality in your puppy
The recipe includes fructo-oligosaccharides (FOS), a natural pre-biotic which may help improve digestion and boost absorption of nutrients in the gut
Added Calcium and Vitamins. Important non-animal sourced nutrients that play an essential role in regulating heart function and metabolism of fats 
Foil Fresh Packaging 
Awards

Certification: UK Vegetarian Society Approved, UK Vegan Society Approved

Country of origin: UK
Guaranteed Analysis
Protein........................28.0%
Fat Content.................12.0%
Crude Fibre..................4.5%
Ash...............................5.5%
Moisture........................8.0%.
Ingredients
(all ingredients are non-GMO) Soya, white rice, maize, sunflower oil, peas, brewers yeast, beet pulp, vitamins and minerals, tomato pomace, yeast palatant, yucca schidigera extract (0.05%), fructooligosaccharides (prebiotic FOS; min. 0.01%)
Vitamins
Vitamin A (as retinyl acetate) 25,962 IU, Vitamin D2 (as ergocalciferol) 3,605 IU, Vitamin E 180 IU
Minerals
Iron (as Ferrous Sulphate Monohydrate) 240 mg, Zinc (as Zinc Sulphate Monohydrate) 200 mg, Manganese (as Manganous Sulphate Monohydrate) 158 mg, Copper (as Cupric Sulphate Pentahydrate) 70 mg, Selenium (as Sodium Selenite) 0.95 mg, Iodine (as Calcium Iodate Anhydrous) 2.25 mg, Linoleic Acid (Omega 6) 6.63%, Linolenic Acid (Omega 3) 0.1%
Amino Acids
Taurine, 910 mg, L-Carnitine 480 mg.
FEEDING AMOUNTS*
How to use Feeding Amounts Table
Determine the average adult weight of your dog (you can look it for your dog's breed). For example, when my dog grows up, he will weigh 1-4 kg. 'Toy 1-4 kg' then becomes my reference column in the feeding chart below. Select the age of your puppy (shown in months) and find the appropriate food amount in your reference column. For example, a 4 months old puppy that will weigh 1-4 kg as an adult requires 80 g of kibble per day.
When 'toy' sized dogs reach the age of 11 months they should be switched to an adult formula. After 12 months puppies of all sizes should be fed an adult formula.
| | | | | |
| --- | --- | --- | --- | --- |
| Age of Puppy (months) | Toy 1-4kg | Small 5-10kg | Medium 11-25kg | Large 26-45kg |
| 2 | 60g | 150g | 230g | 400g |
| 3 | 70g | 160g | 240g | 410g |
| 4 | 80g | 170g | 250g | 420g |
| 5 | 90g | 180g | 260g | 430g |
| 6 | 90g | 190g | 270g | 440g |
| 7 | 90g | 190g | 280g | 450g |
| 8 | 70g | 180g | 280g | 460g |
| 9 | 60g | 170g | 270g | 460g |
| 10 | 50g | 160g | 260g | 450g |
| 11 | Adult Formula | 150g | 250g | 440g |
| 12 | Adult | Adult | 240g | 430g |
*Daily amounts; we recommend you split that amount into 2 meals
**Feeding amounts are calculated on medium food requirements. Amounts may change depending on activity level and temperament.
FIRST TIME FEEDING INSTRUCTIONS
When switching to Benevo, gradually introduce it over a 1-week period.

ADDING WATER
Benevo Puppy Original may be served either dry or lightly moistened with warm water.
---