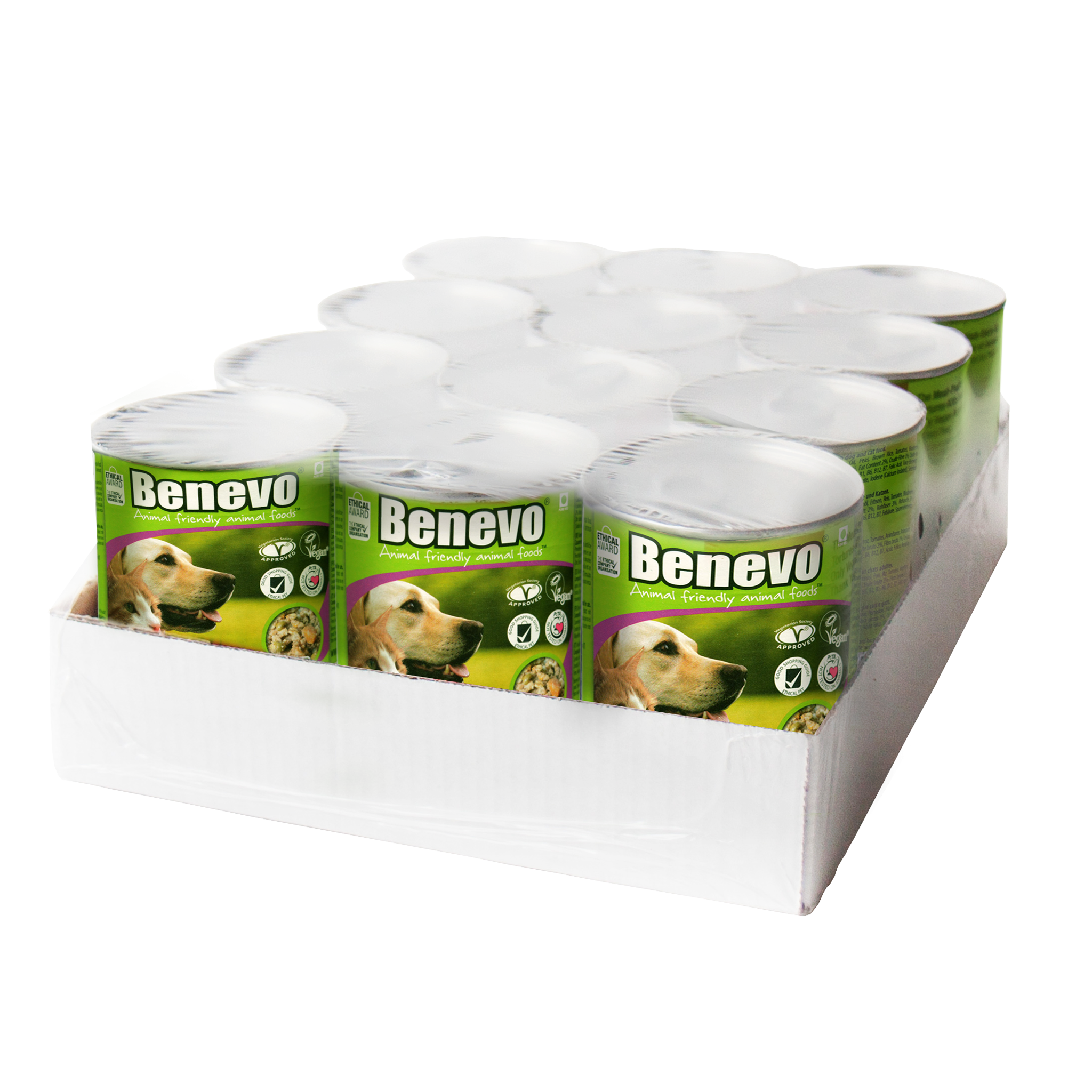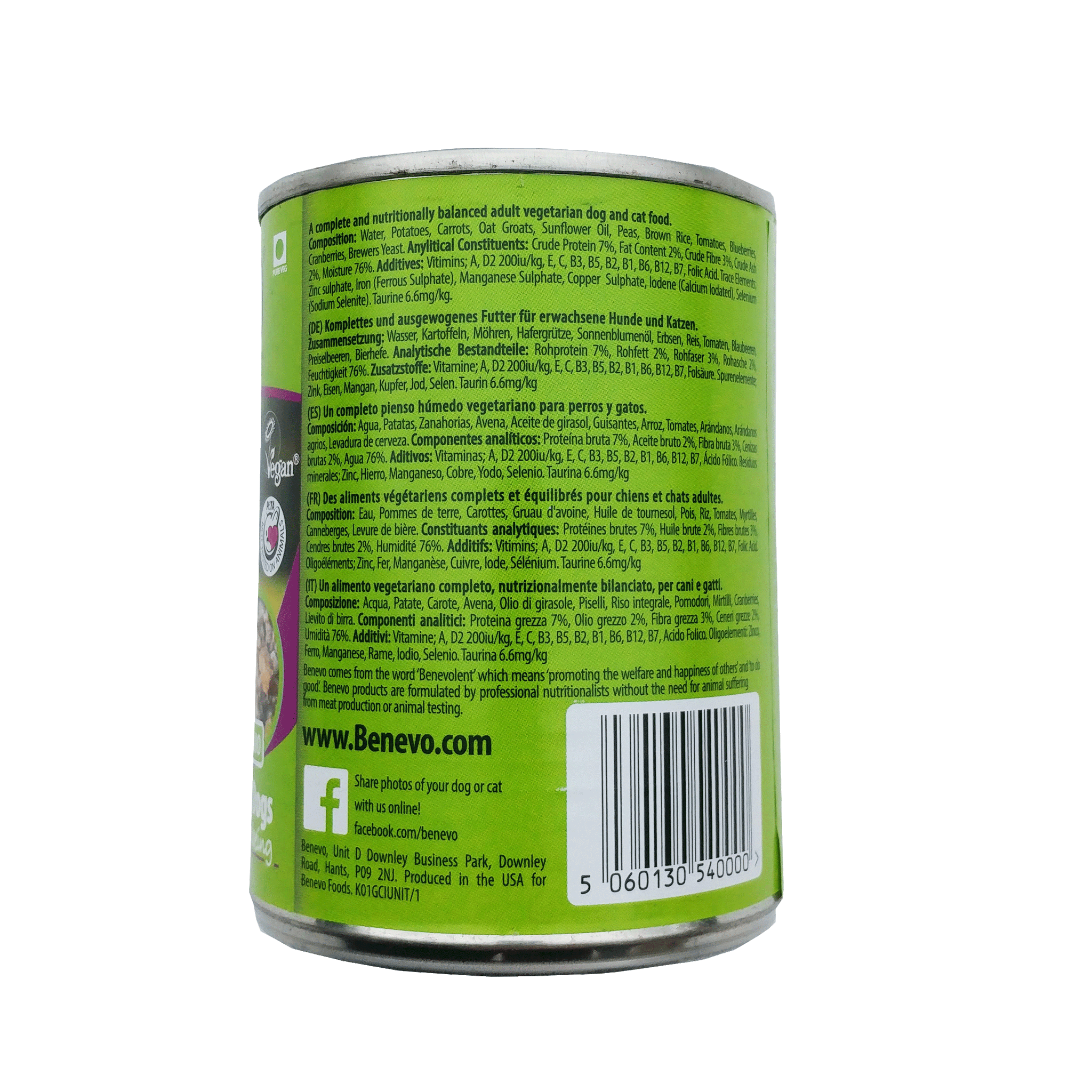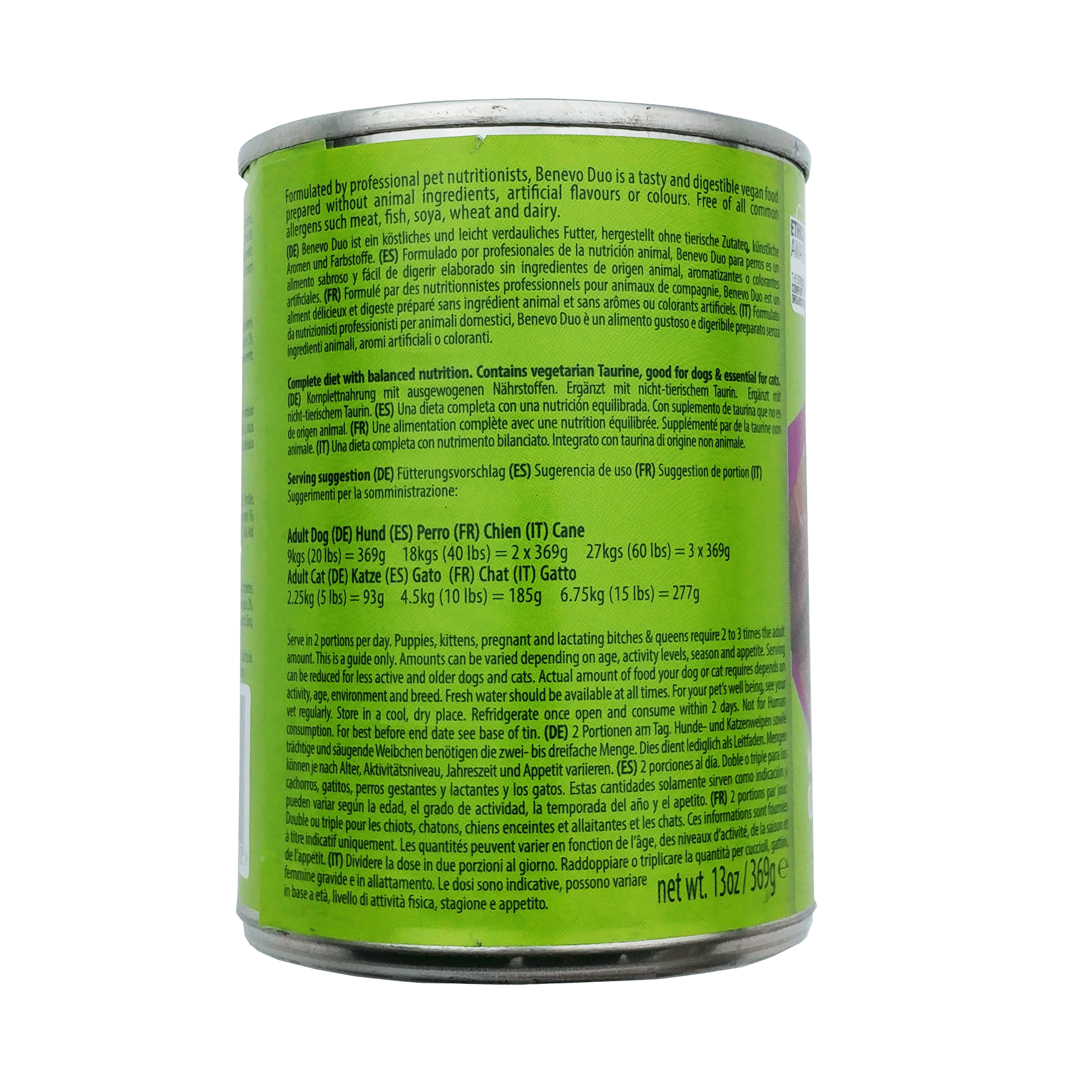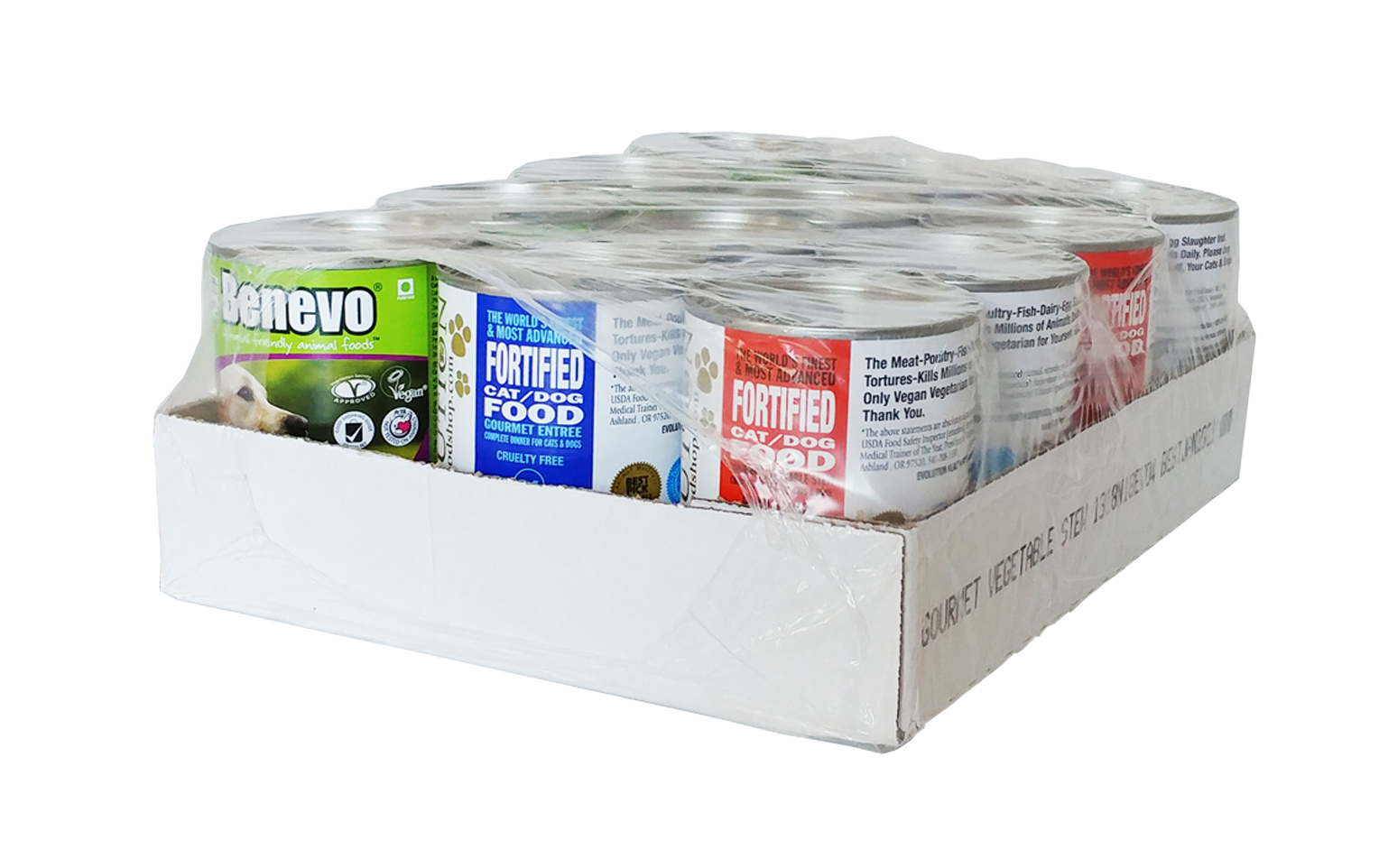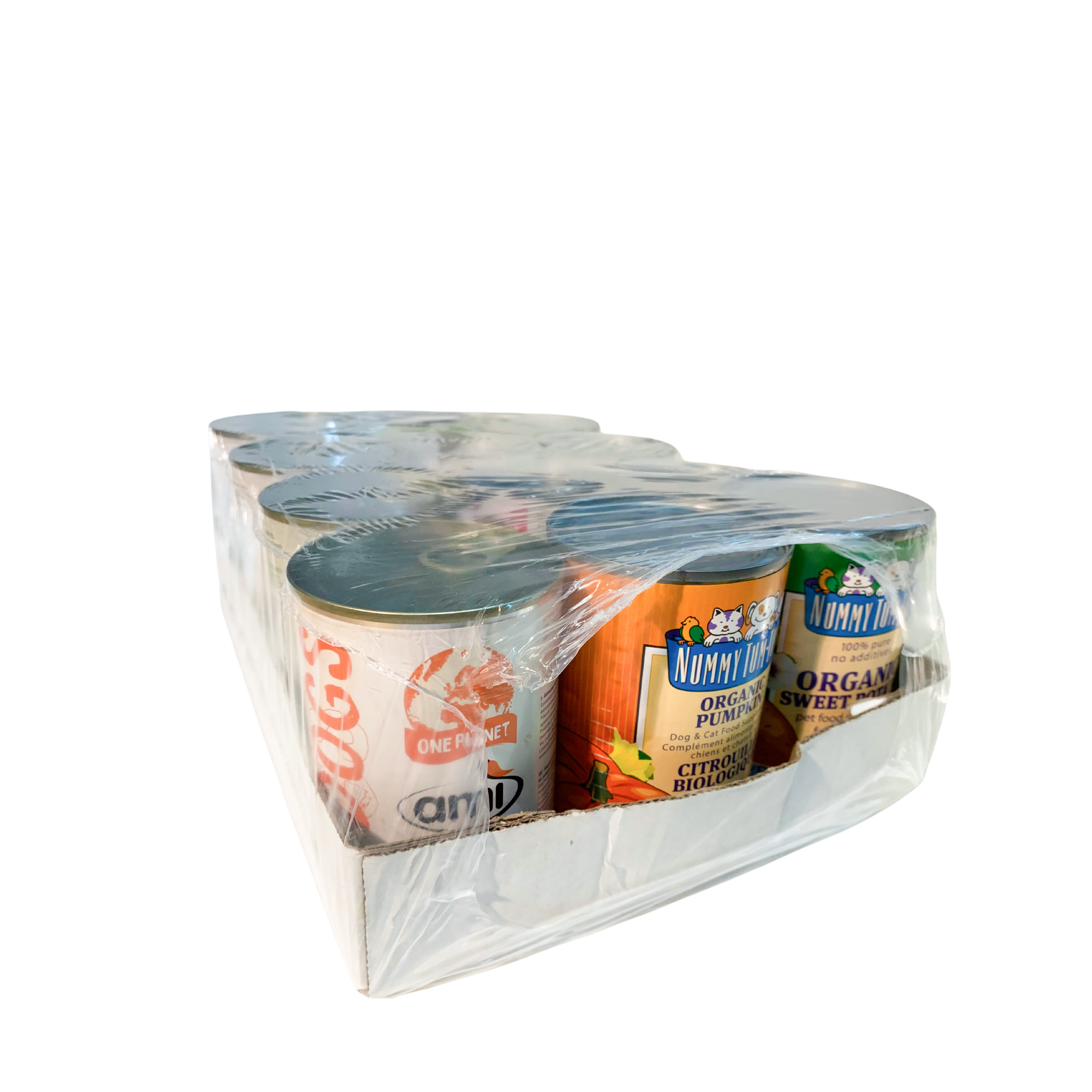 Benevo
Benevo Duo - Complete Food for Cats and Dogs - Case of 12 cans
Regular price
Sale price
$69.60
---
Benevo Duo is a premium moist food for both Cats and Dogs.
It is made with fresh market ingredients such as 
potatoes, carrots, peas, tomatoes and berries with brown rice to make a tasty and nutritious meal.
It's a complete food for dogs and cats of all life stages, with all essential nutrients.
The product features an easy-open ring pull lid and comes in a case of 12 cans.
Benevo Duo Vegetarian Society and Vegan Society Approved.
Key Features
Formulated by professional pet nutritionists. 


Benevo Duo is a tasty and digestible food prepared without animal ingredients, artificial flavours or colours. Free of all common allergens
Wheat- and Gluten-free Recipe. Unique formula has no added wheat or wheat gluten and is a hypo-allergenic alternative for dogs and cats
Soya-Free

Non-GMO Ingredients.

A complete diet with balanced nutrition. A blend of specially selected non-GM ingredients has been fortified with added vitamins and minerals to help maintain health and vitality in your dog and cat

Added vitamins B1, B2, B3, B5, B6, B12 and Taurine.

Important non-animal sourced nutrients that play an essential role in regulating heart function and metabolising fats for muscle

100% Recyclable (tin/paper)
Awards

Certification: UK Vegetarian Society Approved, UK Vegan Society Approved

Country of origin: UK
Guaranteed Analysis
Crude Protein........................8.0%
Crude Fat..............................3.0%
Crude Fibre...........................3.0%
Moisture...............................76.0%
Ingredients
(all ingredients are non-GMO) Sweet potato, Water, Carrots, Oat groats, Vegetable oil, Brown rice, Peas, Tomatoes, Blueberries, Cranberries, Dried brewers yeast, Dried Kelp, Natural Flavours
Vitamins
Vitamin A acetate, Vitamin D2 supplement, Vitamin E supplement, Ascorbic acid, Niacin supplement, D-Calcium Pantothenate, Riboflavin supplement, Thiamin mononitrate, Pyridoxine hydrochloride, Vitamin B1, B2, B3, B5, B6, B12, supplement, Biotin
Minerals
Folic acid, Zinc sulphate, Ferrous sulphate, Manganese sulphate, Copper sulphate, Calcium iodate and Sodium selenite.
Amino Acids
DAILY FEEDING AMOUNTS*
Adult Dog: 1 can per 20 lb of dog's body weight. Serve in 2 portions**

Adult Cat: 1/2 can per 10 lb of cat's body weight. Serve in 2 portions**
*Daily amounts
**Feeding amounts are calculated on medium food requirements. Amounts may change depending on age, activity level and temperament.
3500 kcal per kg.
Puppies, kittens, pregnant and lactating cats require 2 to 3 times the adult amount. Serving can be reduced for less active and older dogs and cats. The actual amount of food your dog or cat requires depends on activity, age, environment, and breed. Fresh water should be available at all times. For your pet's well-being see your vet regularly.
FIRST TIME FEEDING INSTRUCTIONS 
Switching to Benevo Duo must be done gradually. There are two ways of doing that:
Option 1. Start by adding Benevo Duo to the old product, to which your pet is already accustomed: 1 part Benevo Duo, 4 parts old product. Then during the following two-weeks gradually increase the proportion of Benevo Duo. At the end of the second week you should not be adding the old product.
-OR-
Option 2.  Start by mixing 1 teaspoon of flaked nutritional yeast, margarine, or vegetable oil to each cup of the plant-based product. Then during the following two-weeks gradually reduce nutritional yeast, margarine, or vegetable oil to Zero. Pets adapt to the new plant-based product with no added flavour after 1-2 weeks.
WATER
Provide clean water at all times.
Similar products
Also you can see the comparative table of brands that we offer 
Content of Assorted case for DOGS:
Content of Assorted case for CATS:
---